In product reviews, I try to be quite objective - sharing my honest opinion while pointing out the pros and cons for various families. However, whenever you read an Apologia review from me, it seems as if I'm gushing, but I just can't help myself. I LOVE this company, all it stands for, the fabulous staff, and the amazing quality materials. All the way around, I'm completely impressed with Apologia. So much so, that I've already slated 2 titles for my kiddos 2012-2013 Curriculum.
Since being on the Schoolhouse Review Crew, I've had the opportunity to review
How to Have a H.E.A.R.T. for Your Kids
,
Educating the WholeHearted Child
, and
Who Am I? and What Am I Doing Here?
, which is the second title in the
What We Believe series
. Most recently, I've had the opportunity to review the third book in the award-winning series,
Who is My Neighbor? And Why Does He Need Me?
As expected, it did not disappoint!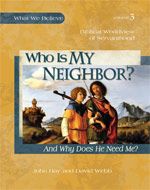 The third book in the award-winning What We Believe series helps children understand what it means to be salt and light to the world (Matthew 5:13-14). This study will encourage kids to develop a Christlike servant attitude based on these biblical truths: God created me to be a blessing to the world; God chooses to work through me; I can make a difference at home, in my community, and at church; the church is God's family; the church is one body with many gifts; and I am an important member of Jesus' body.
This worldview curriculum is suggested for children ages 6-14. With text written directly to the student, those reading at a 5th-6th grade level could successfully complete this program independently. Younger students will need a parent to assist or read aloud. This truly is a perfect multi-age curriculum. Thus, might I suggest that even if your students can easily tackle the reading alone that you use this study together as an entire family. There is so much "meat," Scripture, and wonderful lessons to be learned. Likewise, the discussions that can be facilitated and generated are equally valuable as your family embraces the gifts we've each been given and a spirit of servanthood.
Does Anyone Really Need Me?
How Can I Make a Difference?
Who Is My Neighbor?
Why Did God Make Families?
What Can I Do For My Country?
Why Can't We All Just Get Along?
Who Is God's Family?
Why Does the Church Need Me?
While you have the freedom to work at your own pace, the recommended schedule in the book affords 3 weeks to complete each lesson. Working with small chunks was perfect for my 3 little ones, so we are currently wrapping up our study of the second theme. In lesson 1, the kids really enjoyed reading the story of the Chang family, the race car illustration, and learning that they are on this earth to make a difference. Highlights of lesson 2 have been reading about hamburgers, patterning after Jesus washing one another's feet, and talking about sacrifice. I encourage you to view a
sample lesson
to get your own feel for the content.
Within the lessons you will find:
The Big Idea-
Main topic of each lesson and brief overview of what has been learned so far
What You Will Do
- states learning objectives of the lesson
Short Story-
Short story with characters in the age range of the children studying the lesson that give a glimpse into their lives with differing worldview and shows concepts taught in the lesson.
Think About It-
thought provoking questions digging deeper into the story
Words You Need to Know-
vocabulary words and definitions
Hide It In Your Heart-
2 specific memory verses for your children to memorize. The first expresses the main theme of the lesson the second pertains to a character trait.
Integrated Learning-
interesting articles designed to help the children pursue the books concepts across the fields of art, math, science, history, and more.
What Should I Do-
tools to show the children how to apply the lesson to real life
Prayer-
prayer to acknowledge the gifts of God and thank him for what He has done
Encounters with Jesus-
story adapted from Scripture but fictional to help students explore how Jesus showed God's love in their time of need providing them with examples to follow.
Take A Closer Look-
discussion questions to help children think about how Jesus' deeds impacted those He met
House of Truth-
4 lessons end with a new part of the House of Truth being added on. House of Truth is a visual aid that has been built over the course of all three books. Students can draw it or build with items around their house.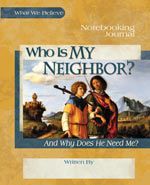 To accompany the text, there is a jam-packed notebooking journal. ON the pages you will find a variety of mini-books, crossword puzzles, word searches, questions, writing prompts, vocabulary, prayer pages, and praise reports. Due to the age of my children, I did not have them complete any of the written work in the journal. Instead, I used it as a guide in our discussion and was able to pull some great questions from the pages. Completing some of the activities orally is a great option for younger students. Take a minute to view a
sample
.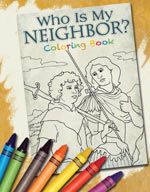 Since the journal was a little about their skill level, the coloring book was perfect for my kiddos. There are beautiful illustrations for children to color that coincide with the lessons being learned. View a
sample page
.

I also want to make you aware that while there really is no teacher prep involved in this course of study, there are free online helps available. Using the password information included in the book, parents will have access to lesson overviews, objectives, suggested activities, child-directed discussion questions, and a recommended reading list for further study. These are all great resources to have at your fingertips.
Like the other titles in the series,
Who is My Neighbor? And Why Does He Need Me?
retails for $39.00. The notebooking journal is available for $24.00, and the coloring book can be purchased for $8.00. Click
HERE
to purchase any of these materials.
Each book in the
What We Believe series
can stand alone, but they would best be read in order. For that reason, after reviewing
Who Am I? and What Am I Doing Here?
this past February, I decided that I wanted my family to go through the entire series. For that reason, I'm choosing to stop where we are in the 3rd book, because the children and I will begin learning from the very first book
Who Is God? And Can I Really Know Him?
when we resume homeschooling in a few short weeks. I look forward to working through the whole series and adding the fourth book,
What On Earth Can I Do?
,
to our collection when it becomes available later this year.

Disclaimer: I was provided the textbook, notebooking journal, and coloring book free of charge in exchange for sharing my honest, unbiased opinion.