It's TIME!!!! The Schoolhouse Review Crew welcomes you to the
Back to Homeschool Blog Hop!
Today's Topic: Homeschool Methods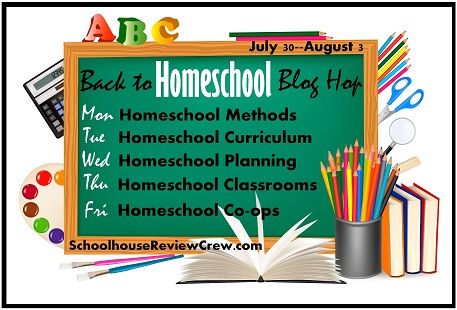 So this homeschool thing, how exactly does it work? Do the kids sit in little desks, raise their hands, and call me Mrs. Wells certain hours of the day? Does chalk dust fly after we say the pledge and complete silent reading? Yeah... not so much.
While there are some homeschool families who choose to school-at-home or replicate the public schools, there are many other methods used such as: Charlotte Mason, Classical, Unschooling, Unit Studies, Notebooking/Lapbooking, Delight-Directed, Computer-Based Distance Learning, etc. I can't say that we fit neatly under any of these headings. Eclectic probably fits us best with a bent towards Unit Studies and quality Literature.
Starting out, based on others glowing recommendations, I went with a boxed curriculum. While some elements were a good fit, we dumped the rest before Christmas. Then, through reviewing products, lots of research and blog following, and really getting to know how my kids learned best, I began piecing things together. At this point, it seems that we pull each subject from a different source. With the boys working as 2nd graders this year, I've amped up the rigor of our studies and added a couple subjects for the coming year. It will be interesting to see how that works.
While some subjects such as math still remain very paper and pencil driven, my wiggly boys and short attention span gal get so much more out of our homeschool when we use a very hands-on, experience-based approach. Yes, I'm a stickler for using proper terminology, but even in my public school classroom days, I always wanted my students to have the opportunity to discover an idea/concept/etc. through their senses before ever naming or labeling it. Why? You are much more likely to remember what you saw, heard, touched, etc. and the emotion you felt than a random vocabulary word. Experience first allows the kids to firmly embed the information before being responsible for rattling off facts and figures. Because of this theory, we LOVE field trips and try to include them often in our homeschool.
In all honestly, I don't believe there is a right or wrong way to homeschool. However, in knowing your children, you will be able to tailor the method to what serves them best. This is one of the great beauties and freedoms we enjoy as homeschoolers. We don't have to operate under a cookie-cutter mold mentality that is aimed at the middle of the road student and leaves the gifted and struggling students behind. Instead, we can challenge our kids in areas they excel, give them extra assistance where weaknesses lie, expose them to the vast world and many cultures that surround us, foster a life-long love and learning, build and strengthen the family unit, and most importantly in my book, teach them to surrender to and serve Almighty God on a daily basis.
Take a little hop by clicking the links to the participating blogs below. You'll find a wide variety of homeschooling methods are employed within this group. If you look closely, you'll find some amazing giveaways too. Stop back by tomorrow and peruse the curriculum our family will be using in the 2012-2013 school year.