Procrastination... I've been one to do it my whole life. Maybe I work best under pressure? Maybe I'm lazy? Not sure of all the whys and what fors, but I know it to be truth.
One thing I put off was learning how to type. It was actually the last semester of my senior year of high school when I finally joined the freshmen in Keyboarding class. Most of my school career, I got away with turning in handwritten papers much to the chagrin of some of my teachers since my signature writing style is a unique mixture of curly-cue cursive and slanted print. Then, for the few things I had to type, I employed the ever popular hunt-and-peck method or had my Mom type it for me.
Knowing that college was in my future, I bit the bullet and learned to type. Turns out it is quite the valuable skill :-) In this case, I don't want my children to follow in my footsteps. Being that technology surrounds us, it is important that my kids are computer literate and comfortable with their fingers on the keyboard even at this early age.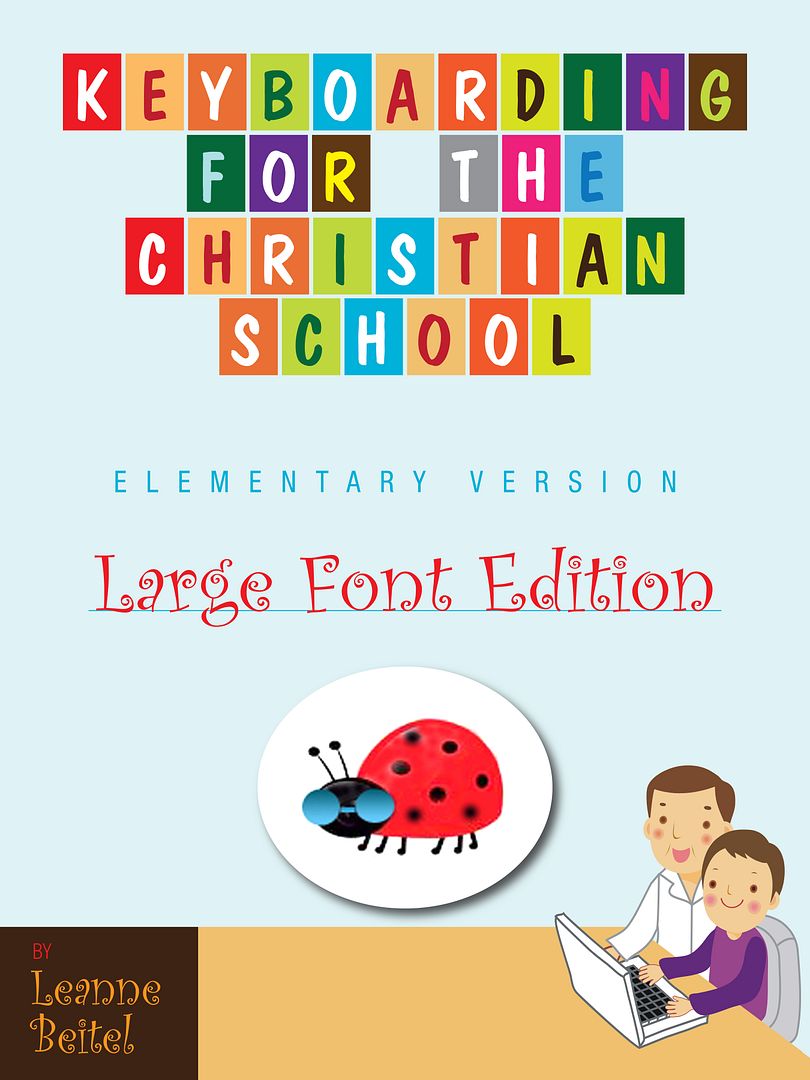 As a member of the Schoolhouse Review Crew, I had the opportunity to review Keyboarding for the Christian School

with my children. Being that they are 5, 6, and 7, I selected the large font elementary version. A cute little lady bug, Mabel, introduces each of the 32 lessons - all of which contain a Scripture verse and detailed instructions. The content covered includes: technique and posture, alphabetic keys, numbers and symbols, the numeric keypad, centering, and enumerated lists.
Geared for students in K-5th grade, the pacing is slow and steady. Children are introduced to new letters gradually, practice patterns, and then promote to words. This traditional approach probably resembles the way in which you learned to type.
Since the majority of homeschools operate on a 36 week calendar, this e-book is perfect. Having 32 lessons and concluding with 10 timed writing exercises, one lesson each week would still give your kids ample time to complete the
Keyboarding for the Christian School
program.
My little ones are working rather slowly through the program, but they are having a grand time. The only snag has been their small hands. They do have difficulty staying in home position and reaching all the keys. However, this little issue hasn't dampened their enthusiasm. Do I think they could sit down and type a polished paper at this point? No. Do I think they are very familiar with the keyboard and have memorized the location of many of the keys? Absolutely!
Keyboarding for the Christian School,
Elementary Edition, is available in both regular and large font. Both e-books retails for
$12.95
. However, for a limited time, the author is offering my readers a discount. Use the code: SUMMER2012 to receive 20% off. This offer is only available through 8/29/12, so don't delay!
As always, I encourage you to give the
Sample Lessons
a try. This will allow you to determine if this program is a good fit for your family. Likewise, you are going to want to click the button below to read what other Schoolhouse Review Crew members are saying.

Disclosure: I was provided a complimentary e-book in exchange for my honest review.