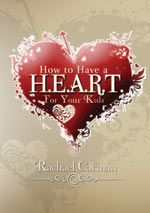 What great teacher doesn't utilize great tools and strategies?!! Mnemonic devices are tried and true, proven ways to ingrain information in the brain, and it appears that Rachael Carman's memory aid of choice is the acronym. Although rather than lodging facts and figures into the reader's brain, shes imparts Biblical knowledge and truth that pierces straight to the heart.
It is a natural assumption from outsiders looking in that a homeschooling mom would be acutely attuned to the heart of her children. Sure... we love our kiddos, but are we
connected
to their precious hearts? In
How to Have a H.E.A.R.T. For Your Kids
, Rachael Carman, a mother of 7, challenges us that indeed to truly have heart for our children and to really know them as God created them to be we must first and foremost know our heavenly Father.

Using the acronym H.E.A.R.T., Rachael leads us through a five part heart inspection. While more pleasant than a physical exam, the introspective look at the heart can be quite convicting. Even still, the thought-provoking, little 5x7 hardcover book is without condemnation and instead offers a heartwarming and uplifting message of encouragement.
Below are my take-aways from each of the book's main points.
H--Have a heart for the things of God
**If I desire for my child to have a relationship with God, I must live mine visibly in front of them each and every day. They must see and hear me pray, read the Bible, and worship.
E--Enrich your marriage
**A strong marriage centered on Christ is the foundation for a thriving family. From my marriage, my children learn lessons in grace, sacrifice, commitment, encouragement, forgiveness, and teamwork. In a household led by a committed couple, children are safe, secure, and empowered. Knowing how important marriage is - I must invest myself wholeheartedly in preserving, growing, and enjoying this relationship.
A--Accept your kids
**Each of my children are individuals created in God's image, and they each possess unique gifts, talents, and abilities. They are fearfully and wonderfully made, and I am to rejoice in who God has created them to be!
R--Release them to God
**I must remember who my children belong too - they are children of God first and foremost! I have only been entrusted with them to teach and guide them in the ways of the Lord. He orders their steps and has plans for their future.
T--Teach them the truth
**Using the equation 2+2=4, Rachael makes a compelling argument for absolute truth. I LOVE that she uses such a simple example to deal with such a weighty subject. The most important book I will ever read to my children is The Holy Bible. Sharing the truths found within God's Word will serve them far greater than any lesson plan I create or teach.
I recommend this book as a great, inspirational read for homeschooling moms, and I encourage you to read what other TOS Crew Members are saying
here
. If like me, most of you are early enough in the school year that this book will guide and aide you in setting the tone for your 2011-2012 homeschool. It will assist you in gaining perspective and reiterate the importance of keeping matters of the
H.E.A.R.T
at the very heart of your school, home, and daily life.
How to Have a H.E.A.R.T. For Your Kids
Author:
Rachael Carman
See the table of contents.
Read a sample chapter
here
.
ISBN:
978-1-935495-41-3
Hardcover:
205 pages
Price:
$13.00
Order:

Apologia

Need more information? Contact:
Apologia Press
, a division of Apologia Educational Ministries, Inc.
1106 Meridian Plaza, STE 220, Anderson, IN 46016
Phone: (888)524-4724
Fax: (765)608-3290

*Disclosure: I was provided a copy of this book in exchange for my honest, unbiased review. All opinions are my own, and I received no monetary compensation.