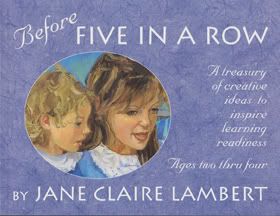 When Caleb was three, he spent his days with my good friend/his private sitter. He learned so many things while staying with Ms. Gretchen and playing with his pal Rebecca. Participating in a
Before Five In a Row
co-op was one of his favorite things. He would come home re-telling the stories if he didn't borrow the book for the night. He recounted fun activities and showed me all of his cool crafts.
Because Caleb so enjoyed the activities and stories, when give the opportunity to review
Before Five In a Row
, I jumped at the chance. While we have participated in a Five In A Row Vol. 1 and now Vol. 2 co-op, I wanted my Ethiopian cuties to have the same experiences and thus fond memories of the
BFIAR
stories.
Caleb and Jeremiah are a tad above the targeted age range and Rachel at the top edge, we mainly utilized Part 1. However, I want to make mention of Part 2 because it is absolutely ideal for parents of two and three year olds. It is a Treasury of Creative Ideas for Learning Readiness. It includes activities for reading readiness, development of large and small motor skills, bath time, kitchen, and store. It also gives toy suggestions and addresses visual, literary, and performing arts. An additional book list and suggested reading for Mom is also found.
Part 1 provides cross-curricular activities for each of the 24 books used in this program. These books are classics. Personally, we already owned 7 of the titles, and from a quick search, I found my public library to have 18 of the titles in their collection. The premise of the curriculum is that the story is read-aloud 5 days in a row, and each day you are able to choose small mini-lessons to build upon or expand the story. These lessons include science, math, art, history, health, safety, language, social studies, etc.
One of the features I like best is the inclusion of Bible and character study. For example, when we read
Caps for Sale
, we spent some time reading Proverbs 6:10-11 and discussed all the problems sleeping on the job could present. Then, using the main character of the story, we were able to discuss feeling of anger and frustration and how to handle such emotions.
Before Five In a Row
is a great, gentle introduction to formal learning. While it uses timely, classic literature, it is hands-on and active. The suggested activities are short and simple catering to small attention spans. Very little prep-work is needed, so busy Moms could absolutely include this in their day - even if homeschooling more advanced students. In fact, older children will still enjoy listening in on the wonderful stories.

Before Five In a Row
is available for purchase exclusively at the
Rainbow Resource Center
. The curriculum manual retails for
$35
. In addition, each of the included
titles
are available for purchase, or the teacher's manual and books can be bought as a
bundle
currently selling for
$97.50
.
Be sure and read
reviews
written by my fellow TOS Crewmates. I know I always gain so much from reading varied experiences. I know you will find wisdom in their words as well.
Disclosure: I received a complimentary copy of Before Five In a Row in exchange for my honest opinion. I will receive no monetary compensation for this review.