Big IQ Kids is an online program focusing on spelling and vocabulary, math, and U.S. geography. An SAT vocabulary prep session has even be added, so the program can benefit students K-adult. On average, each lesson takes 10-15 minutes to complete. Only after a student has reached mastery can the next level be accessed.
At the completion of each lesson, a game coin can be earned and saved or cashed in to either play a game or accessorize your "buddy." The games really do serve as a motivation to complete lessons. This is nice for Mom because when learning is fun there is not a constant battle to complete work. Also, it spurs the child to continually tackle more difficult material.

The success of the Big IQ Kids program is best realized when a child completes a lesson per day from each topic. When using the premium program, the parent receives an email progress report. While you are capable of logging in and checking the student's status at any time, this added bonus email is a time-saver and great convenience to busy parents. It is also a motivator to children as well, knowing that Mom is going to find out exactly what they have been doing on the computer.
Below, I've included an overview of each of the programs.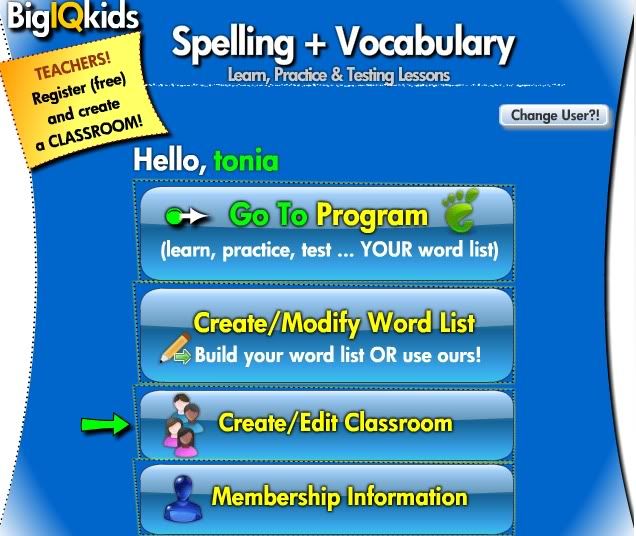 Spelling & Vocabulary
In this section, children may work from a set of pre-made lists or customized lists can be created. I chose to import Caleb's spelling words from his
A Reason for Spelling
curriculum as an added activity to help promote mastery. When the spelling program introduces the child to a new word, it provides the definition, uses the word in a sentence, shares a synonym, and states an antonym. Then, throughout the course of the week, the child interacts with the words through word searches, word jumbles, and a hangman-like game before testing.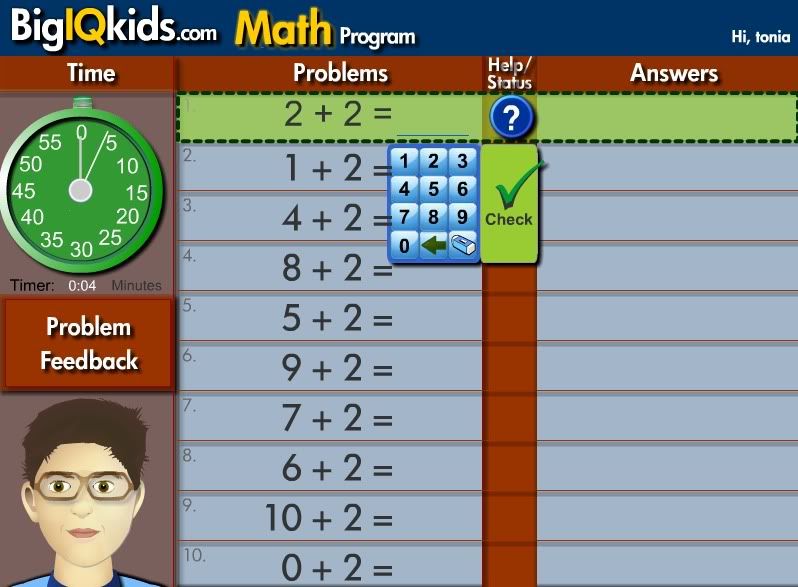 The math portion of the website is not a source for new content or explanations of concepts. It is strictly drill and practice. While that is needed in regards to committing math facts to memory, this program could never be considered a stand-alone math curriculum. When first using this program, my boys were overwhelmed by the amount of problems. 50 problems comprise the default setting. Thankfully, the number can be modified to a much more manageable task... especially for little ones.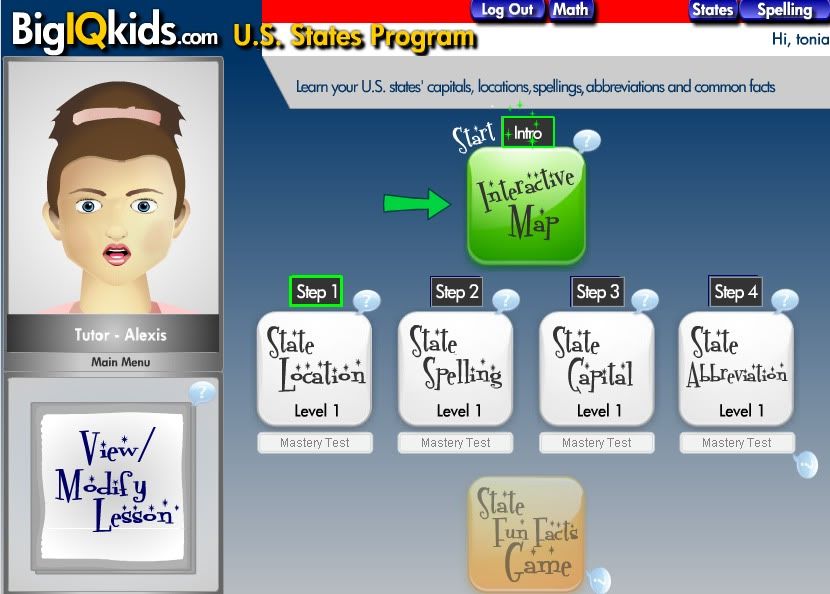 U.S. States Program
Due to the fact that our studies this year are focusing on World Geography and Culture, my kids did not spend time in this area. We're working through Asia now, and I didn't want to confuse them. However, from looking through it, I can tell you that students learn the location of each state, the capital city, correct spelling and abbreviations, and a few well-known facts. The culmination of the program is a state mastery exam. If 100% is scored then the child is awarded a State Master Certificate.
Free vs. Premium Options
The programs I introduced to you above are offered in both free and premium versions. What's the difference? According to the website,
"the primary differences between the BigIQkids FREE and PREMIUM programs are the ability of the PREMIUM program to monitor the progress of the student and advance that student only when mastery of the subject matter has been achieved. Additionally, PREMIUM members have their progress tracked, saved, problem areas identified and these findings are reported via email to parents and/or teachers. The PREMIUM program offers students customized buddies, full game page access and the ability to save game coins and gaming high scores. These functions help double the fun while mastering core academic subject matter. The PREMIUM program has very LIMITED advertisement an no ads are displayed during lesson interaction."
The Spelling & Vocabulary program is always free. However, for students in grades K-2 a Jr. Spelling Program is available for purchase at $7.99 a month or $39.99 per year. To view a full comparison of the math and geography programs, see their
Free vs. Premium Math
and
Free vs. Premium U.S. Geography
charts on the Big IQ Kids website.
My Overall Thoughts

I do have a few dislikes. I personally, found the computerized voices of the tutors to be grating on the ears. However, my little ones seems oblivious to the robotic sounds. I suppose this must just be a sign of age - ha! At first, I also found the site to be difficult to navigate. After interacting with it for awhile, we were able to move around more easily. The other big disappointment was the ads on the pages. Some of which I found to be inappropriate. For this reason, my sons were not able to be completely autonomous in this activity. I felt the need to stay close by to prevent them from clicking on something their little eyes didn't need exposed too.
As this program is primarily constructed using a drill and practice model. I would not suggest it as a sole curriculum, but I would recommend it as a supplement or enhancement to what is already being done in your homeschool. On days where Mom isn't feeling well or during school breaks, I would definitely feel comfortable turning to this program. We will continue to use this program throughout the school year, and in the future, I see the value of utilizing the free sections. However, the premium costs would be quite steep for us as a one-income family with three children... especially when it doesn't offer everything we would need in a curriculum.
To learn more about The 2011 Old Schoolhouse Homeschool Crew Blue Ribbon Award winning
Big IQ Kids
, visit the How to Use and
FAQ
pages. Check out the short lesson demos. Also read what my crewmates had to say about Big IQ Kids
here
.
Disclosure: I was provided two premium subscriptions to BigIQKids in exchange for my honest opinions and review.