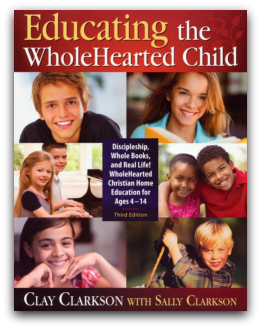 Are you staring at the title,
Educating the WholeHearted Child
, and thinking to yourself that you must have previously read it or have it tucked away on a shelf from years gone by? Possibly so, but you are going to want to pick up this revision/expansion of the 1996 edition. Why? The Clarkson's have learned much more in the past 15 years educating their own four children. Well over 100 pages of brand new material to be exact and much of the old material has been revamped and/or rewritten entirely.
The new and improved edition, all 376 pages, is divided into four sections. First, the book addresses the HOME, then LEARNING, METHODS, and finally, LIVING. It concludes with a wonderful resources section complete with booklists and a plethora of forms for home and educational management.
Specific Highlights for me:
Quoted from Chapter 5, "In God's economy, to be educated is not a matter of something you know or have achieved. Rather, to be educated is something you become."
I enjoyed Chapter 7's section on building a home library, the qualities of good books, and even some recommendations of types of books to avoid. I'm now more determined to find "living books" of great caliber for my children.
Quoted from Chapter 10, "Of all the appetites for life and learning that you instill in your children's hearts, let a love for God's Word be one that you feed and stimulate every day. Let all others be minimized until you see the signs in your children's heart of a godly hunger and thirst for righteousness."
The Family section of Chapter 15 gave such wonderful, detailed descriptions of the roles of family members and spoke to my mission and ministry as a mother. It is always good to revisit this information and evaluate effectiveness and priorities.
Am I gracious? a servant? compassionate? and encouraging?
Also from Chapter 15, I absolutely have latched on to the ideas of following the PATH on my "mom walk." PATH being an acronym: P - purpose, A - assurance, T- trust, H - heart.
I really loved Chapter 16 where the Clarkson's recommend planning your year around the holidays. So often, we feel guilty as educators from taking time away from the 3 R's, but the logic behind the Clarkson's words was so timely and made perfect sense.
From Chapter 17, I gleaned an idea of a new filing system. Despite my best efforts, I always fill as if I'm wading in paper. Hoping this helps!
This book is not a quick read. In fact, there are so many nuggets of wisdom and pure gold ideas to implement in your homeschool that like me, you may find yourself with pen and paper in hand taking lots of notes. My intention is to keep this book and refer to it again often for inspiration, encouragement, and troubleshooting when things aren't going the way they should.
I would highly recommend this book to anyone who homeschools whether you are contemplating starting soon, are a novice, or have been in the trenches for many years. However, don't simply take my word for it.
Read what my TOS Crewmates have to say
by visiting the
TOS CREW Blog
.
Educating the WholeHearted Child
is available for purchase for
$22
from Apologia. View the book's
Table of Contents
. Also, read a
sample chapter
.
While visiting the Apologia site, I encourage you to take a look at the other titles available as
resources for parents
. Moms, you may even want to learn more about the
Apologia Live Retreats
designed as a get-away to support and encourage Moms.

(Disclosure: I was provided a complimentary copy of this book in exchange for my honest, unbiased opinion.)