Yes, I know... you are probably in a state of shock. It's ok - REALLY! I DID volunteer to review a product that involved the kitchen. Saying that the kitchen and cooking are not my favorites is the understatement of the century. However, I find myself spending more and more time there lately. Strange how these three little things called children have a penchant for eating? Anyway, with their crazy strong appetites, they are eating a lot thus forcing me to experiment with this cooking thing more.
So looking for any help I could get knowing that a personal chef isn't in the budget, I eagerly jumped at the chance to review
E-Mealz
. Why? As their website touts,
"

E-Mealz is the revolutionary way to free up your brain, your budget and your family time. E-Mealz takes the dinner menu and money planning stress off your plate... easy as 1-2-3!"
1. Choose a Plan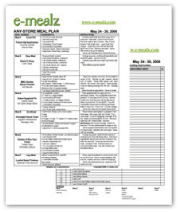 There are choices of 5 meals for 1-2 people or 7 meals for 4-6 people.
There are options to meet varied dietary needs: gluten free, vegetarian, low-carb, low-fat, etc.
Plans exist based on specific stores (Kroger, Wal-mart, Publix, etc.) and their sale items for the week.
Check out
this list of options for Meal Plans!
Wow, lots of choices!
Be sure and click on your plans of interest to view sample meal plans. You also have the opportunity to switch your meal plan once during your 3 month subscription.
2. Print & Go Shopping
Print the entire week's plan on only two pages. The first contains the list of meals/sides, ingredients, and recipes. The second is the actual shopping list.
The shopping list contains a categorized list of needed ingredients and a staples list.
3. Cook & Enjoy
No need to go out or hit the drive-thru.
Prepare & Cook a simple, easy meal.
Enjoy time at home with your family.
MY THOUGHTS
Pros:
The company was created by two Christian women, Jane DeLaney and Jenny Cochran. I always like to support Christian businesses when I have the opportunity.
The program is endorsed by Dave Ramsey. When you are looking to cut-costs and save, his seal of approval means a lot!
The meals are kitchen-illiterate, domestically-challenged (terms I affectionately refer to myself as) friendly. (A.K.A. - simple, do-able, EASY!)
Recipes are provided.
Quick meals for this busy Momma
A meal plan that coordinates with the sale prices of Kroger - my store of choice
Categorized shopping list makes items easy to find. 5 categories: Deli/Produce, Meats, Dairy/Refrigerated, Frozen, and Canned/Bottled/Packaged
Cons:
E-meals only provide supper plans. I'm on my own for breakfast and lunch.
My kiddos are fruit & veggie lovers, so we have a lot of fresh/organic produce in our house. However, the meals used quite a bit of canned/processed food.
I'm picky - especially with the cuts of beef I eat. I don't like fat at all. Some of the dishes called for a cut that I disliked - not that it phased my carnivore husband.
I'm all about sales and manager's special items. When I see something good (especially with meat), we stock up. This program isn't designed to make use of your stockpile.
However, if your family is like mine, the stockpile comes in handy because I found that only 3-4 of the 7 recipes per week were a good fit for my family. I'm the picky eater of the bunch, and there were some meal suggestions I knew I just couldn't stomach. This isn't the fault of the program - just my crazy warped taste buds!
Overall:
The concept is brilliant. Busy families everywhere could embrace the easy 1-2-3 plan. Even though my family didn't reap the full benefits due to weird eating habits, I think it is a good program. For only $5 a month, I believe, it is more than worth it to add some variety to your diet, save you some time, and provide an answer to the always asked question, "What's for dinner?"
Subscribe Here
- While the cost is $5 a month, plans must be purchased in 3 month increments. Then through automatic renewal, you will be billed $15 every 3 months to your credit or debit card.
Visit the E-Mealz blog:
Make Time for Family
Connect with the E-Mealz community on
Facebook
or
Twitter
.
Christmas is quickly approaching. Have someone who is impossible to buy for? Consider
E-Mealz Gift Certificates
.
Visit the
TOS Homeschool Crew Blog
and read what other crewmates are saying about E-Mealz.
(Disclosure: I was provided a 3 month subscription to E-Mealz in exchange for my honest opinion. I receive no monetary compensation for this review or referrals.)