Eager...
Excited...
Thrilled...
Overjoyed...
The
All About Reading Level 1 Kit
($99.95) includes:
Teacher's Manual (View sample)

Student Packet (Activity Book

sample

)

Run, Bug, Run!

reader (

sample

)

Cobweb the Cat

reader (

sample

)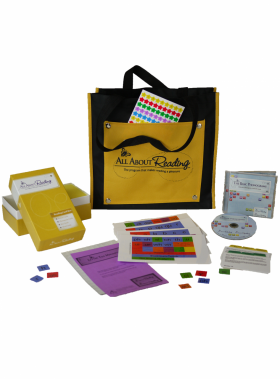 1. Letter Tiles
2. Magnets for the Letter Tiles
3. The Basic Phonograms CD-ROM
4. Reading Divider Cards
as well as three additional items:
1. Reading Review Box
2. Reading Tote Bag
3. Star Stickers
I must say that after a couple months of using this reading program I am seeing wonderful results with my boys and am 100% completely sold!!! Upon my purchase of a magnetic whiteboard, my quick assembly of the letter tiles, and tearing the perforated flashcards, I was all set to teach the boys. I love that All About Reading is truly an "open and go" curriculum. Minimal prep time on my part is always a positive, and I was so impressed by the ease of implementation. The lessons are systematic, scripted, and very simple to follow.
All About Reading
focuses on the five key components of reading: Phonological Awareness, Phonics and Decoding, Vocabulary, Fluency, and Reading Comprehension. To teach these Big Five Skills, the curriculum uses a multi-sensory approach. For this reason sight, sound, and touch are utilized in every lesson. This combination guides students in mastering exciting new concepts including: letter sounds, phonograms, consonant teams, blending, syllables, sight words, consonant blends, plurals, and compound words.
From my initial flip through the teacher's manual, I realized that Caleb would find the first half of the lessons incredibly easy. Honestly, I debated whether to start him in the middle or do the early lessons as a review. I'm so glad that I opted to start at the beginning. Caleb likes a challenge and LOVES to sound out and decode "big" words but has never been one to focus on reading fluently. He did move very quickly through the initial lessons, but I found the attention
All About Reading
gives to fluency has improved his reading so much. He is now working on lesson 34 of 49 and is doing splendidly.
Jeremiah started from the very beginning. He's often hesitant sounding out words for fear of making mistakes or saying something wrong. Having the tactile activity of manipulating the tiles to form words eased some of his anxiety, and he is attempting word-building and reading with more confidence. He really enjoys the activities and games in the student book. Also, the reward of a sticker on his chart for every completed lesson is motivational and an easy form of positive reinforcement. Additionally, it allows him to see how much he has accomplished in a glance.
All About Reading
has proven to be effective, engaging, multi-sensory fun for my boys. While they are each working at their own pace... neither one is frustrated but instead filled with a sense of achievement and accomplishment.
All About Reading
is the real deal! I WILL most definitely be purchasing the All About Reading
Level Pre-1
for my daughter and
Level 2
for my boys to continue reading.
Aside from my review products and future purchases, I'm pleased that
All About Learning Press
offers many helps to parents and teachers at no cost. The website hosts a
forum
where Mommas, like myself, can connect, share, and learn from one another. It's always beneficial to see others interpretation, implementation, and interaction with curriculum. It can serve as a trouble-shooter if things aren't going well, a catalyst to press on, or the conductor of "ah-ha!" moments that can be transferred to your own homeschool. In addition, an online
Reading Resource Center
can also be found offering video and a number of supportive articles addressing reading pedagogy, suggesting activities, and providing encouragement. Likewise, the
All About Learning Blog
provides a wealth of information, extends support, and promotes a positive learning environment.
It's also important that I note that
All About Learning Press
doesn't focus only on reading. The company also has available
All About Spelling
. This mastery based program has seven levels, and it also employs multi-sensory lessons to best teach students. I find it user-friendly that the spelling and reading programs correlate and utilize many of the same materials.
Contact Information
Phone: 715-477-1976

Disclaimer: I was provided the All About Reading Level 1 Kit and the Deluxe Reading Interactive Kit in exchange for my honest review.