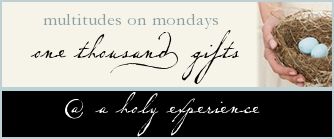 98. meeting new friends
99. an "all clear" from the dr.
100. Steven Curtis Chapman's music, genuine heart, and bold voice for the orphan
101. Josh Wilson's instrumental version of Amazing Grace
102. the KY AWAA Associates
103. a new pillow
104. potlucks
105. the gift of music
106. well-behaved children
107. the opportunity to help a friend in need
108. little boys and their Lego creations
109. homemade pizza
110. holding & loving on baby Myles - an answered prayer!
111. Jane's potato soup
112. being in good company
113. connection
114. late night chats & giggles with my hubby
115. fabulous take home materials from Children's Ministry
116. a vision cast
117. browsing at Joseph Beth
118. a Sunday afternoon nap