And the list continually grows - more and more gifts for which to be grateful! Thank you, God!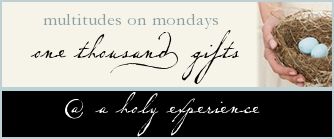 138. shared interests
139. Ms. Jessica - Rachel's wonderful, bubbly, encouraging, speech therapist
140. SonRise Church in Cincinnati for offering to host our April
AWAA
seminar
141. cuddling in bed with my kiddos and a pile of books
142. Women's Bible Study
143. clearance racks
144. proud of a student performing
145. Rami, Sagi, & Nathaniel - my kiddos sweet classmates
146. sweaty, happy, tired kiddos after fun at a friend's BounceU Birthday
147. field trips
148. safe travels
149. Mom watching the kids overnight when I needed her at the last minute
150. no more hamsters :-)
152. adoption preached from the pulpit
153. joining SCC members in prayer for the 3000 students who attend our church
154. 9 year old - Courtney P. - may never meet her but I will faithfully pray for her
155. knowing my kiddos each have someone committed to praying for them by name
156. a little helper tagging along to the grocery store
157. coupons
158. watching my hubby playing Guess Who? again & again with Caleb
159. coconut oil
160. my Dad's safe return from his mission trip to Guatemala
161. hearing my son ask God in prayer to "help him spread the good news about Jesus"
162. the surprise opportunity to send a care package to our sponsor child with a family traveling to Ethiopia
163. the clear night sky - perfect for planet/moon/star-gazing
164. gorgeous weather for a day of play at the zoo
165. a picnic lunch
166. spontaneous, contagious laughter