In my life this week…
I attended a new Women's Bible Study at church. We are working through Angela Thomas' BRAVE. Week 1 - "I am worn out!" Hmmm... is that a relevant topic or what? I enjoyed table talk with my life group pal and 4 other new friends. Looking forward to the next 5 weeks together with these ladies, and praying for many "fresh" words from the Father!

I have played a lot of games of "Guess Who?" Daddy picked this game up for the little ones, and Caleb has a wee bit of an obsession. The kid has wanted to play non-stop the past couple days. He's getting much tougher to beat.
In our homeschool this week…
We met with our DRASTIC Book Club for some Dr. Seuss books & treats.

I finished teaching my DRASTIC music classes for the year. The kiddos will enjoy an art class in March/April.

Visited the "SPACE... Imagine That!" exhibit in Danville with homeschool friends from M-I-N-D, CACH, and CHIL.

We gazed at the clear, night sky to see Jupiter and Venus. Pretty cool!
Helpful homeschooling tips or advice to share…
Avoid comparisons. I've had to remind myself of that a lot lately. 1.) Don't compare the kids to one another. 2.) Don't compare the kids to other children. They are each individuals, fearfully and wonderfully made by God, with their own unique strengths, weaknesses, gifts, and abilities.
I am inspired by…
Places we're going and people we're seeing…
Monday - Zoo Trip

Tuesday - Rachel's speech

Wednesday - Light Will Rise meeting & Bible Study

Thursday - DRASTIC & SCC Adoption Group

Friday - Galloping-the-Globe co-op

Saturday - celebrate Dad's birthday
Things I'm working on…
Finalizing & Scheduling our Spring

AWAA

Seminars

Planning a long weekend, March, get-away trip for the fam (possibly friends too)
I'm reading…
One Million Arrows by Julie Ferwerda
I'm cooking…
I made a Cinnamon Streussel Cake this week... yes, it was totally out of a box. Add egg, water, and oil - but for me, that's pretty awesome. It was quite yummy!
I'm praying for…
At our church, we were all challenged to invest in a younger generation. There are 3000 students within our church and each of their names were suspended on a small card near the exits. We were each able to grab a card on our way out and commit to pray for this child.... not just for today, not for the week, month, or year, but for LIFE! I pulled 9 yr old - Courtney P., and I'm praying for this sweet daughter of the King. (**Side note - my 3 kiddos names were out there somewhere as well, and it thrills me to know that they are also being prayed for by name.)
I'm grateful for…
An Ethiopia adoptive family will be traveling to meet their son and appear in court this week. Like us, they sponsor a child at Children HopeChest's

Kebron Carepoint

. They are going to be able to visit, so they offered to take care packages to all the kiddos. We were excited to put together a bag of snacks, candy, little trinkets, a picture of us, and most importantly our letter reminding Eliham that she is beautiful, dearly loved, and God's precious child.
A photo to share…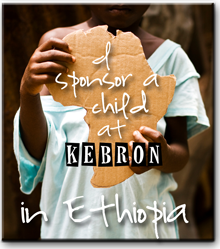 Are you involved with child sponsorship? If not, I'd encourage you to prayerfully consider! Children's HopeChest is doing incredible, life-saving, God-honoring work. There are still Kebron Carepoint kiddos in need of a sponsor. Got questions? I'd LOVE to chat with you about it!