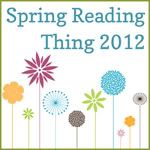 As you may recall from this post, I decided to participate in the Spring Reading Thing 2012 hosted by Katrina at Callapidder Days. The Spring Reading Thing ran from March 20-June 20th, and my goal was to read 12 books in the 3 month time frame. Did I meet my goal? Not quite... I only got 10 completed, and as you will see, I spent the majority of my time reading non-fiction. I stuck somewhat close to my original list reading 7 of those titles. They are highlighted below with a few of my thoughts underneath. My three additional reads follow.

NONFICTION:
Kisses from Katie
by Katie Davis
Amazing!!! Katie is so very inspiring. Her dedication and love for the least of these should compel all of us to greater service!
Infinitely More
by Alex Krutov & Jackie Davis
Remarkable! A story of redemption for a Russian orphan who is now working tirelessly on behalf of those who are where he once was.
A Place at the Table by Chris Seay
Stumbling Into Grace
by Lisa Harper
Lisa is a master at real-life application, yet goes beyond the surface and digs deep into God's Word.
Organized Simplicity
by Tsh Oxenreider
My latest read - perfect for this season of my life and all we have going on in the near future!
Pajama School - Stories from a Homeschool Graduate
by Natalie Wickham
This books was actually a disappointment. I found it to be somewhat scattered. Even still, it is pleasing to see a homeschooled child achieving success and standing strong for the Lord as an adult.
Raising Kids with Love and Limits by Julie Barnhill
Quitter by Jon Acuff
I think this would have been more applicable had I read it a few years ago. However, still things I could glean from Jon's words.
Loving
by Karen Kingsbury
(releases March 27th)
I was always a Team Cody gal, but by the book's end I was converted to Team Brandon. Even though, I do think he's the sappiest guy on the planet. Ahh yes... he's fictional!
The Hunger Games by Suzanne Collins
Catching Fire by Suzanne Collins
Mockingjay by Suzanne Collins
(So I didn't quite succumb to the peer pressure yet... still haven't read the hyped up Hunger Games trilogy. Admittedly, having two children who have known the pain of hunger and starvation, I have a hard time wrapping my mind around reading of the same things for pleasure. It just seems a little off, yet the books remain on my Kindle. We'll see if I ever get around to reading them.)
Gazelles, Baby Steps and 37 Other Things Dave Ramsey Taught Me about Debt
by Jon Acuff
A short, humorous read with some financial truths mixed in
The 5 Love Languages of Children
by Gary D. Chapman, Ross Campbell and Ross Campbell MD
The Fiddler
by Beverly Lewis