In my life this week…
Last week, we announced to family and friends that Jon accepted a new position, and we would be moving to Nashville, TN. For some reason, some missed that announcement (maybe in denial?). However, it seems that this week's BIG ANNOUNCEMENT traveled much faster. So, if you are one of the few who haven't already heard, then I want to share some more exciting news with you.
Guess who is
???? - ME!!!!
Our little one will be making an arrival the end of December. The due date is Dec. 30th, so we could have a Christmas gift, anniversary gift, or a New Year's gift. No matter the birth date, a good and perfect gift from our Father above! We're very excited!
In our homeschool this week…
What a shock... Jeremiah didn't do any math. Oh my, if I want this boy to finish first grade math, I've got to get myself together. However, all the kids have been working with some of the review products and curriculum we have! Be watching for me to share some great stuff with you in July!
Helpful homeschooling tips or advice to share…
Support your state homeschool conference. Don't get me wrong. I LOVE going to the big homeschool conventions where the schedule, booklet, and vendor hall completely overwhelm you, and there is more to see and do than you could possibly complete in weeks let alone the few days available. However, there is something special about attending a conference with like-minded, Christian, Moms and Dads in your very own state, catching up with old friends, making new ones, and seeing what vendors reside in your own backyard.
This weekend, I was blessed to be able to attend a portion of the
CHEK Conference
in Louisville. I enjoyed time with a good friend and saw others that I knew. I was able to see fellow Schoolhouse Review Crewmate,
Marcy
, and meet
TOS
Publisher,
Gena Suarez
. Gena was so sweet to have a "thank-you" tote bag of goodies and Starbucks gift card to give me. Love being a crewbie :-)
I am inspired by…
My friend, Melissa! She is an incredible Mom in a position she never would have asked for, dreamed of, or imagined. However, she very clearly sees the hand of God at work in her situation. He is holding her precious little girl, her family, and writing her story. She has great strength and great faith, and I am privileged to call her my friend!
Places we're going and people we're seeing…
Purposely, the calendar is clear this week. There is soooo much to do to get the house ready to sell, so we're camping out at home and working hard.
My favorite thing this week was…
Sharing our baby news with the ones we love!
Thoughts I have…
Simplicity. That is the thought that Jon and I are really focusing and concentrating on for our family. As we survey our home, we see so many "things." This is not what makes us happy. In fact, they clutter our space, stress us out, and rob us of our peace.
Originally, when thinking of the monstrous task of packing all the stuff, we determined to donate things and have a yard sale. This week, I came to the conclusion that there was no reason for a yard sale. 1.) The thought of tagging it all and giving up a weekend we could be working on one of our many projects is not at all enticing. 2.) It's not about the money that has been spent or could be made. It's about a renewed focus on what is truly important, what makes us happy, what allows us to connect as a family, and what will encourage us to more freely show hospitality and serve. 3.) Others in need can benefit from our things... several loads have gone to Goodwill and will continue to do so. Some furniture and appliances will be going to our church's Helping Through Him ministry.
Things I'm working on…
Decluttering, Purging, Cleaning, and Organizing.... the entire house! It's exhausting, and I've only just scratched the surface.
I'm grateful for…
My best friend. We don't see each other near as much as we used to, but our chats are just as meaningful and important. God has given us our friendship not just for a season but for a lifetime - no matter where we live!
I'm praying for…
a smooth pregnancy and healthy baby!
A link to share…
You know how I love all things adoption, but in-process adoption Momma's hold a special place in my heart. I remember the roller coaster of emotions, the hope, the stress, the excitement all wrapped up in a not-so tidy package. If I can do anything to encourage or support one of these Momma's, I really do try to do it.
While at the CHEK Conference this weekend, I got to meet and briefly chat with
Ami
. I've been familiar with her work through
Homeschool Share
for a few years. If you haven't been to this site, you must check it out. She has an incredible library of unit studies and lapbooks... best of all, completely FREE! More recently, I've been following her personal blog,
Walking by the Way
.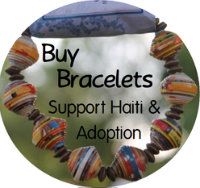 Ami and her family are currently in the process of adopting children from Columbia. As a fundraiser, they are selling beautiful, hand-crafted, paper bead bracelets. The wonderful thing about this fundraiser is that the money is divided, so both the Haitian artisans and the adopting family are supported. Win-win!!! The bracelets are only $8 and available only through the end of June. I purchased a beautiful bracelet... you know you want one too!!!! Learn more
HERE
!