Gone are the days when a crayon and a menu/placemat/activity page all-in-one will entertain a child while waiting for his food at a restaurant! Oh, we might do a maze or play a few rounds of tic-tac-toe, but then the inevitable question is asked, "Can I play on your phone?" Hmmm... Angry Birds, again? Then, I ask, "Why is drawing on my phone better than the crayon & placemat you already have?" We are definitely inundated with technology, and our children are no different.
If I'm going to hand over my phone in Chili's or Applebees, at least, I can take comfort in the fact that
my children are interacting with educational apps. Enter
Mobile Education Tools
! Birthed from a father's desire to help his special needs daughter, this company has developed apps to assist elementary children in building their language skills. While initially created for children with high functioning autism in mind, the apps have proven to be beneficial and exciting for all students. Therefore, these apps have been embraced by healthcare professionals, educators, ESL teachers, and parents of students in need of extra practice or remediation.
Why are the apps so successful in all these situations? Being that they are user-friendly while including incredible graphics and clever animations, children are drawn to them. The apps engage and utilize the visual, audio, and tactile senses. This multi-sensory approach and involvement from the children promotes both learning and retention.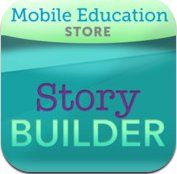 In our home, we had the opportunity to review
StoryBuilder
- an app made for the iPhone or 4th generation iTouch ( the ones with a camera). This program has 3 goals for students.
Improve paragraph formation

Improve integration of ideas

Improve higher level abstractions by inference
StoryBuilder
features:
Record feature allows students to record narrative in their own voice

3 levels of play

Simple and intuitive interface to record narrative

Recorded answers are stitched together to create complete narrative

50 distinct story lines to create narratives from

Over 500 audio clips of questions to guide narrative

Optional question text and answer introduction reinforcement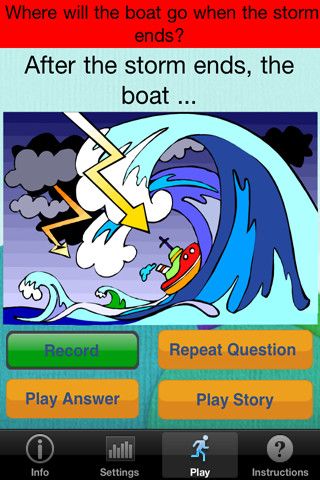 Within
StoryBuilder
, there are 3 different levels.
Level 1 - Students are asked four questions. After seeing an animation, they are primarily answering Who? What? When? Where? to construct sentences based on the facts from the story. When all answers to the questions have been recorded, the child is able to press the play story button. Then, the entire story is read aloud.
Level 2 - Students are asked seven questions about the cartoon. These questions focus more on the Why? or How? of the story. The child is making inferences and thinking about the sequence of events.
Level 3 - No questions are asked. While reminded to use complete sentences, the child has the freedom to create his own story based upon the picture he sees.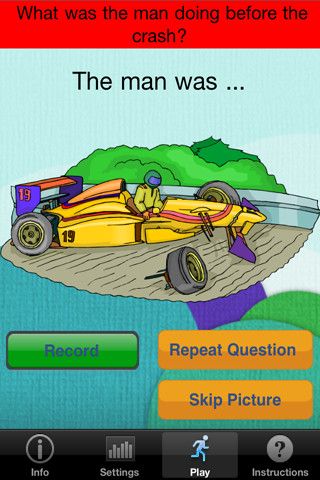 I believe this app to be an excellent tool for children who are working to improve their narration skills and speaking skills. Methodically, the app teaches a child the basics of story construction by allowing him to record a sentence at a time. Then, the sentences are compiled and re-played as a whole. The upper levels encourage both inference skills and creativity.
While as a mom, I'm impressed with the educational benefits. The huge draw for my kiddos was recording their own voices on my phone. I'm not sure why, but children gravitate toward recording devices. I know as a child I loved to play with a tape recorder. I'd record songs, commercials, radio shows, etc. and then quickly replay it to hear. These tapes have gotten in the wrong hands - a.k.a. my parents - and have been replayed for years to provide many laughs. All at my expense!
Pairing my love for the educational benefits and my kids love of the fun factor, the app gets our seal of approval. The great thing about apps are the inexpensive cost.
Storybuilder
can be purchased in the Apple App store for only
$5.99
. That is excellent news for any homeschool budget! Visit Mobile Education Tools today to find some
iPhone Educational Apps
or
iPad Education Apps
to add to your collection. Also, be sure and read what other Schoolhouse Review Crew members have to say about the
Mobile Education Tools
apps they reviewed. Find their thoughts on the
blog
.
Disclaimer: I was provided a complimentary app in exchange for my review. All opinions are honest and my own.