Attentive
Content
Diligent
Forgiving
Gentle
Helpful
Honest
Kind
Obedient
Patient
Perseverant
Self-Controlled
I just described your children, right? What??? You mean your kids don't have all of those lovely character traits in the bag? Shew... thank goodness! I'm not the only one with little ones for which some of these are struggles. Really... who am I kidding? For me, several on the list are challenges.
We Choose Virtues
understands that we are human. We have flaws, struggles, and are tempted daily. Absolutely, character education is a life long process, but there is no reason that we shouldn't begin to teach our children when they are young.
We Choose Virtues
has a myriad of helpful, high quality, child-friendly tools and is dedicated to "Simply Inspiring Character that Lasts."
I was able to review the
We Choose Virtue Clue Cards
with my little ones. Currently on sale for $5.99, the velcro closure pouch contains 13 durable cards that can be taken here, there, and everywhere. The colors are vibrant, the Virtue Kids characters are darling, and their names, catchphrases, and antonyms are all included. That seems like quite a bit for one little 2 x 3.5 inch card to hold, but that isn't all. Flip over the card and find the "You Can Do It" Challenge. It is designed to give kids exact words to say when faced with temptations. It was a joy to this Momma to hear my little ones quote these cards even in their play time.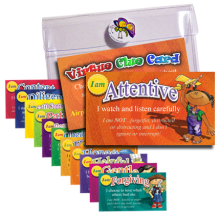 While the cards were handy and great teaching tools, my "artsy" children really enjoyed the accompanying downloadable PDF
color book
. I printed copies of each of the characters as we studies the card. The kids were able to color the picture, hang it up, and use it as a reference throughout the week. Because it is a PDF, I can print these pages again and again as we find the need for a refresher in a particular virtue. Character education is continuous, and this is a tool always at my fingertips.
Another product, Mom's will find of interest is the
Teacher's Handbook
. Whether utilizing the
We Choose Virtues
products in your homeschool, home day care, church, private, or public school, this full color, 48 page handbook outlines the simple steps and inspiring tools that are needed to teach the this character education system.
I am impressed not only with the
We Choose Virtues
products we had to review, but the basis and premise of the whole company. I definitely stand by the initiative of character education... especially when we are modeling our lives after Jesus Christ. I do hope to instill all of these virtues in my children.
Be sure and spend some time on the
We Choose Virtues
website to learn about all of the fantastic products available. The January/February Deal: You get the
100 Days of Virtue Chart
FREE in your
Homeschool Kit
purchase! In addition,
what great homeschooling Momma doesn't love a sale? A
clearance sale
at that! Definitely be sure to note these super deals
only while supplies last!
2011 Kids Virtue Poster $9.75 (35% savings)
2011 100 Days of Virtue Chart and Butterfly Stickers $11.99 (20% savings)
2011 3 Rules Poster $7.75 (35% savings)
Check out the
TOS Blog
and read others experiences with
We Choose Virtues
.
Disclaimer: I was provided complimentary product in exchange for my honest review.