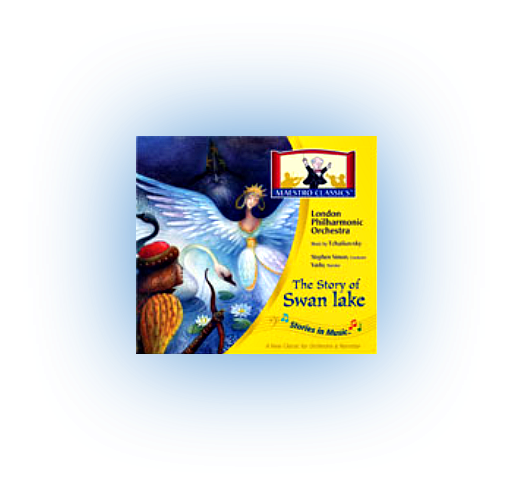 Many of you know that prior to homeschooling, I was an elementary music teacher. I'm always on the lookout for great, high quality music products to share with my kids, and
Maestro Classics
is nothing less. I was thrilled to have the opportunity to review
The Story of Swan Lake
featuring the London Philharmonic Symphony, and the timing couldn't have been better!
With our Galloping-The-Globe co-op, we were studying Russia. In my opinion, that can't take place without some time devoted to Tchaikovsky. While we talked about the ballet in general and
The Nutcracker,
The Story of Swan Lake
was our focus. The activity book included with the CD was a wealth of information. The 24 pages contained Tchaikovsky's biography, information on acoustic and electric guitars, sheet music and words for a sing-along song, explanation of major and minor keys, puzzles and more. Also on the website, there is a
More Fun With Music
section that links to sites that are both entertaining and educational for children.
My kiddos thoughts on the CD:
Rachel is ALL girl! She just loved the story of the Prince falling in love with the Swan Princess and breaking the magician's evil spell. She put her tutu on and whirled and twirled to the music. The boys were most impressed by the
Speed Metal Swan
- there may have even been some head banging. Oh my... this Momma isn't sure she can handle metal-heads in the house! (Seriously - it's not that bad.)
Mom's thoughts:
I love storytelling paired with music, and I believe
Maestro Classics
married the two beautifully. The music was high caliber yet great efforts were made to make it especially appealing and inviting to children who otherwise would not be interested in the ballet. I enjoyed all the historical/biographical information that was provided, and I LOVED the inclusion of a sing-along song. I could definitely foresee incorporating this in the music classes I teach at our homeschool co-op. I'm excited to try some of the other titles.
Peter and the Wolf
is on my to-buy list for sure, as I love the story and have used it to teach children about orchestral instruments for many years.
P.O. Box 688
Falmouth, MA 02541
508-548-2811
toll free: 888-540-2811
fax: 508-548-2833
Available Products:
Nine CD's are available for purchase including:
Peter and the Wolf, The Story of Swan Lake, The Sorcerer's Apprentice, My Name is Handel, Casey at the Bat, Mike Mulligan and His Steam Shovel, The Tortoise and the Hare, Juanita the Spanish Lobster, and The Soldier's Tale.
Visit the
product page
to listen to samples from each recording.
Cost:
Each of the available selections from
Maestro Classics
are offered on CD ($16.98) or as downloadable MP3s ($9.98). There is also a 4 CD Story Pack or a 4 CD Classic Pack each offered for $65. Finally, the entire 9 CD collection is available for $128.
Click
HERE
to read what other TOS Crewmates are saying about Maestro Classics.
Disclaimer: I was provided a CD at no charge in exchange for my honest review. All opinions are my own.