Heritage History
is an online library of over 400 books all authored and published prior to 1923. Fulfilling their mission to make old-fashioned history books, written for the enjoyment of young people, easily available, the complete text of every book can be read directly off the website. (Printable and e-Reader formats can also be purchased.) This large collection is very user-friendly as it is clearly sorted by genre, author, series, and civilization. A color-coder myself, I do like the titles' organization based on the level of difficulty. Green titles are for younger readers, brown titles are for middle school, and red titles are for high schoolers.
I really appreciate a company that is operated by homeschoolers. They are in the trenches and understand the unique needs of home educators. At
Heritage History
, that is the case. In fact, it was birthed out of their own homeschooling and teaching needs. You may be interested to read about the
selection process for the books
and
worldview
.
Heritage History
currently offers five libraries configured as complete curriculums. Each can be purchased on CD for
$24.99
or the entire set is available for
$99.99
(a $25 savings!). Whether you purchase one library or all of them, it is a very frugal, economic way to build a quality historical library! Think of all the space you will save too - no need to find space for more bookshelves! (That's a biggie in my house.) On the CD's, you will find the resources in three formats - Printable PDF files, E-Reader formats MOBI, and EPUB. What an advantage to be able to use it with ANY reader!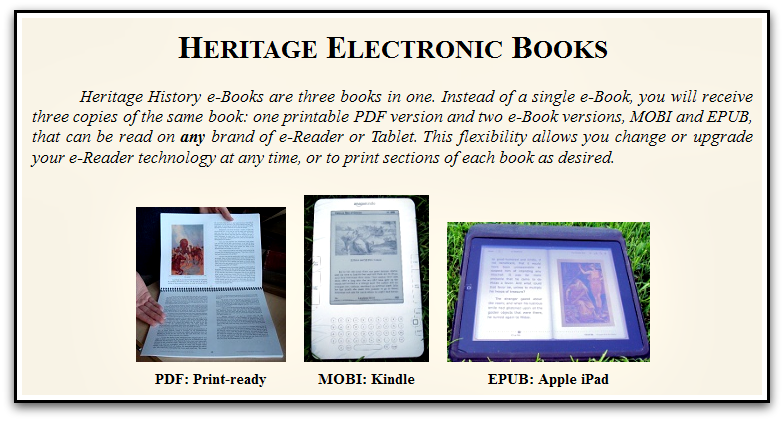 For review purposes, I was sent
The Young Readers Classical Curriculum
. It is appropriate for early elementary students and serves as an introduction to the entire
Heritage History
curriculum. The CD includes 86 books, recommendations, and a Teacher's Guide. The stories and selections cover many historical periods and cultures. A sampling of American, European, Ancient, and Biblical history - this is a wonderful introduction to history.
The Young Readers Teacher's Guide is a fabulous resource. It includes color images and book recommendations, era overviews, a guide to "Living Books" history for instructors, binder covers, and accountability records. It is ready to put into a three-ring notebook and will help students understand the historical framework into which their stories fits.
While the Teacher's Guide is included on the CD, I was sent a print copy as well. This option may be something to consider especially for convenience sake or if you lack access to a low-cost color printer. It was so nice to have the materials all printed and binder ready. It allowed me to flip back and forth at will and go to the section I desired to read with ease. The print version is available for
$20.99
. There is also the opportunity to purchase only a downloadable teacher's guide without the complete Curriculum CD for
$8.99
. This would be the option for families that would like to follow the
Heritage Classical Curriculum
study program, but prefer to purchase books individually or read the text directly from the
Heritage History
website.
How did we use
The Young Readers Classical Curriculum
? Since we did not formally study history this year, I didn't have a specific time period to focus on or tie our reading into. Therefore, we took a look at the long list of titles and chose the one of most interest to us. As Kentuckians,
Hannah of Kentucky
, was a good place to start. With the kids cuddled up close, I'd grab the Kindle and read aloud. Hannah's family follows the infamous Daniel Boone to settle in Boonesborough. The kids really enjoyed hearing and learning about the day-to-day goings on of fort life. Through Hannah's eyes, they also experienced the larger-than-life pioneer, Daniel Boone. Without
Heritage History
, I seriously doubt we would have ever crossed paths with this sweet tale.
Read what other TOS Crew Members are saying about Heritage History on the
TOS Crew Blog
. You may also be interested to know that Heritage History is also a
2011-2012 TOS Homeschool Crew Blue Ribbon Award Winner
as the "BEST e-Product." Go ahead and view the entire list of winners
here
!

Disclaimer: I received a complimentary CD & Teacher's Guide in exchange for my honest review.