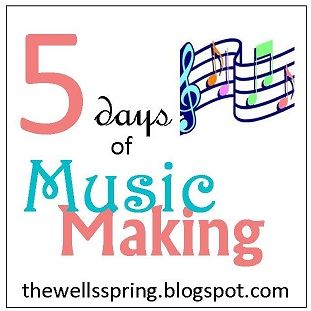 My kiddos with friends from their K-1 Music Class (DRASTIC Co-op).
When music making with instruments, the instrument itself becomes an extension of the child. They are able to pour themselves... their feelings, emotions, abilities, expressions, etc. into the music they create. Early on, this expression may come across as noise to Mom's ears, but the experience is invaluable for little ones. Be patient Mom!!!! Actually, exposure to and the opportunity to play even the simplest of rhythm instruments as a child could quite possibly transfer to the desire to play a lifelong instrument. You could have a very accomplished future instrumentalist in your midst.
Popular childhood instruments are often members of the percussion family. These auxillary instruments are things that are struck, shaken, or scraped. Instruments such as: tambourines, maracas, castanets, triangle, rhythm sticks, guiro, cymbals, drums, etc. There is a definite quality difference in these products. You can find cheap plastic versions in toy aisles, but if possible, I'd invest in the higher quality items. If they are played as regularly as the ones in my home by some rough-and-tumble kiddos, you are going to want something that will withstand the wear and use. Also, the music-geek again, the timbre or sound quality is so much better.
One favorite among my children and the many elementary level music classes I've taught over the years has to be BOOMWHACKERS! These pitched, plastic tubes are played by striking them against your body. They are so very fun, but they are ever so valuable in teaching many musical concepts such as: high/low pitch, diatonic/chromatic scales, intervals, chord building, melodic contour, dynamics, etc.
Finally, just my opinion, on formal instrument lessons... wait until your child is a reader! This has always been my rule of thumb in teaching piano lessons. There are many differing methodologies in teaching children, and some start teaching preschoolers by rote. I'm not saying to squash a young child's interest, but I strongly encourage you to wait until your child is an early reader to begin formal study. This will aide them in memorizing notes rather than relying on crutches (finger numbers) to play. Again, my opinion :-)
If you have been with me for the entire Music Making series, thanks so much! If you missed any earlier posts, please go back and take a read.
Day 4 -
Music Making with Homemade Instruments
Be sure and catch the other 65+ Bloggers participating in the TOS Homeschool Crew blog hop. There are some wonderful, informative, creative posts you don't want to miss.