Caleb worked very hard this year in Math and was able to finish his 1st grade curriculum in April. That was great, but now what? Jeremiah is still working for another month to reach the same goal, and I didn't want Caleb sitting idly by. The solution.... Enter
CapJaxMathFax
.


CapJaxMathFax
is a drill and practice math facts computer program. Practice in all four operations (addition, subtraction, multiplication, and division) are available, but Caleb has been working primarily with addition. From his work with this program, he is improving both his speed and accuracy in addition facts. Even better, he's not balking at it a bit. He really enjoys his time working through
CapJaxMathFax
.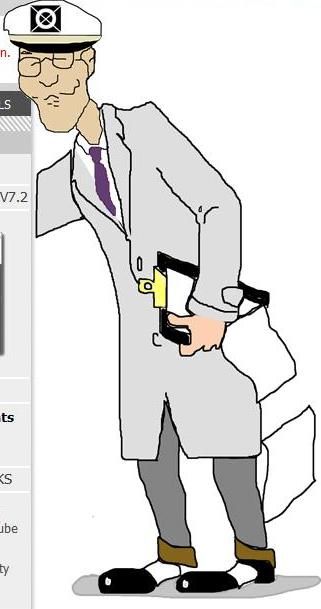 The computer program was designed by Jack Fretwell of Starboard Training Systems. With 30 years in education and computers, Mr. Fretwell is dedicated to developing stronger math skills and confidence in students. His desire is for no child to be without basic math abilities. There is also a want to alleviate frustration, self-defeat, and negative attitudes. Thus, the tagline, "Put some
HAPPY
in your math!"
There are so many online math programs and software available. What makes
CapJax
the one to choose. Use the checklist below to compare
CapJax
to the alternatives. Can you check yes?
CapJax
can!
| | |
| --- | --- |
| Does the program address the full range of computation from addition to division? | |
| Does the program address computation with negative as well as positive values? | |
| Will my student clearly understand the objectives of the program? | |
| Is there positive feedback for my student to enjoy working with the program? | |
| Is feedback immediate? | |
| Does the program allow me to monitor my student's performance over time? | |
| Will the program work at my student's best pace for learning? | |
| Will my student succeed at a rate that is challenging, but not frustrating? | |
| Does the program allow time for my student to reflect on his or her work? | |
| Does the program use timing in a way that that minimizes pressure? | |
| Does the program provide printed reports of my student's success? | |
| Does the program provide graphical reports of success and progress? | |

Honestly, as an adult, I thought the computer graphics of this program were very dated. There aren't many frills, cool effects, etc. It is basic facts. I guess... aesthetically, I wanted more. With all of the online educational and video games my son plays, I really expected this to be a problem. However, he wasn't phased. He was all about beating his time. How many seconds did it take to answer the fact and could he do it fast next time. The thrill for him came in the competition. He was always trying to "one-up" his own score.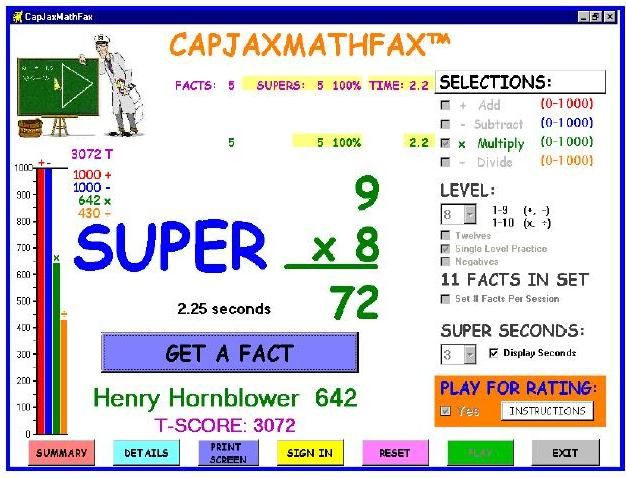 I suppose what was best for Mom. I didn't have to go back through the teacher's manual of his 1st grade math and copy lots of drill and practice sheets. I simply sat him on the computer, clicked a few buttons to customize exactly what I wanted him to concentrate on and he was self-sufficient. When answering a math fact, Caleb received immediate feedback. (See example)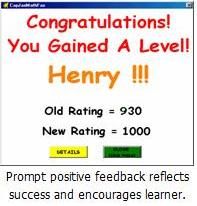 With
CapJaxMathFax
, children are able to advance through the program as they gain mastery. As they progress, they earn earn merit badges. This is to serve as an incentive as the students are improving their math skills and building their confidence.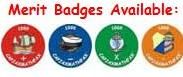 Pricing:
$29.95
for the downloadable product
Contact Information:
Starboard Training Systems
11729 North Shore Dr.
Reston, VA 20190 USA
Phone: 703.471.6790
Fax: 703.471.6791
Open 9:00am - 5:00pm EST
Monday-Friday
Online Contact Form
Unexpectedly, I found
CapJaxMathFax
to be a winner for my son. He really enjoys the program and is doing well. I encourage you to stop by the
TOS Homeschool Crew Blog
and see what others are saying about
CapJaxMathFax
.

Disclaimer: I was provided a complimentary product in exchange for my honest opinion.