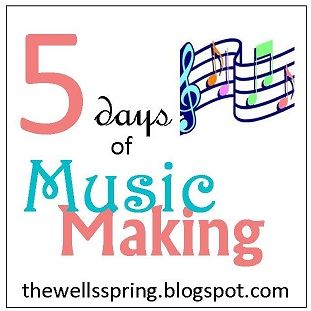 Homemade instruments are a lot of fun for children. Creating the instrument, immediately, the child feels ownership, and he becomes so very excited to perform. He will definitely enjoy music making with something he fashioned with his own hands.
Again, search throughout your house, and I'm sure you will find many objects that can find new life as an instrument. A plastic Easter egg filled with rice is obviously an eggshaker. Two cups attached at the mouth or two paper plates glued together can become shakers when filled with rice or beans. A Pringles container filled with rice, beans, pasta, etc. is now a rainstick. A shoebox with a whole cut out of the center and rubberbands stretched across transforms into a guitar. While these are tried and true and just a sampling of all you can do, I have a lesser known homemade instrument I'd recommend you make with your children.
Suggested Activity: Make a homemade bullroarer.
A bullroarer is an ancient instrument used primarily for communicating over greatly extended distances, and some people groups believed it allowed them to communicate with their gods. Evidence of bullroarers have been found in many geographic locations and cultures. However, it is most well-known among the Australian Aborigines.
In the past, I have made these instruments with students with a paint stir stick and string as shown in option 1, but option 2 & 3 works as well.
Option 1:

Option 2:
Option 3:
Visit other posts in my "5 Days of Music Making" series...

Also, be sure and visit the many other bloggers participating in the TOS Homeschool Crew Blog Hop. Simply click the button below.