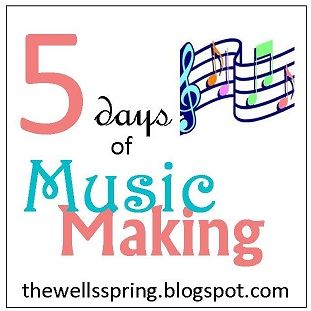 Day 3 in our Music Making series, and I want to call your attention to an often neglected form of music making - found sound. Instead of being used for it's original purpose, a found sound object is adapted or modified to make music. We have seen this done routinely in musical forms such as Jug Bands and Appalachian folk music. Recognize any of these objects?
The intended purposes were never to create music, but they have become recognizable instruments still used today.
When you explain found sound to your children, it is so very easy for them to comprehend. They have probably all made pencils into drumsticks - very disturbing to a homeschool Momma wanting to get the day's work done :-) I'm sure they have blown across a bottle to hear the sound it makes. If you have rambunctious boys like I do, they have probably simply ran into something and realized it made sound.
Today, I have one suggested activity for your family. Go on a Found Sound Scavenger Hunt. You may choose to do this with a digital camera taking pictures of the items you find or even video of your children playing these instrument/objects. Older children may put it in a table format. The items found could be listed down the left side of the grid. Across the top include such categories as: the material it is made of, how is sound created, what does it sound like, etc. Then, once the scavenger hunt and/or table is complete, you can have a discussion about timbre (what makes the sound of each instrument unique).
Did you miss
Day 1
or
Day 2
of my "5 Days of Music Making" series? Be sure to click the links and check them out. Also, I highly encourage you to check out the other bloggers participating in the TOS Crew Blog Hop. Simply click the flashing button below. There are so many wonderful posts on such a wide variety of topics including subjects of interest for homeschoolers and general interest posts as well.