I was thrilled to be on the review team for
WriteShop
. It seems that in these early, formative years my focus has been having the kids work to master phonics and learn to read. While there is nothing wrong with these goals,
WriteShop
illustrated beautifully how writing coincides with such studies and definitely has a place in the early elementary curriculum lineup. It is the perfect addition to what we are already implementing and accomplishing in our home.
First, I spent some time getting to know the teacher's guides section. It had valuable information including planning the schedule, materials and supplies needed, how to teach multiple children at varying levels, and the framework for teaching the lessons. The schedule may take a little time to wrap your head around, but once you choose a plan to stick with and follow, you will get in the groove quickly. I chose to use the 2-week option. We completed one lesson in this timeframe by completing one of the eight sections each day Monday through Thursday while taking Fridays off. This was very doable for us. An average of 15-20 minutes a day isn't time-consuming at all.
Our time was spent working specifically with
WriteShop Primary A
. For our family, this was a natural place to start, but if you are unsure where to begin this
determining placement section
will be very helpful to you.
WriteShop Primary A
is designed for kindergarten and first grade or reluctant second graders. The program allows for students who are pre-writers as well as those who are in the beginning/developing stages. The program leads students through and teaches them the writing process from pre-writing to publication in a stress-free, age-appropriate manner.
Each of the lessons in
WriteShop Primary A
has a specific focus and theme.
Lesson 1 - Getting Started & Animals
Lesson 2 - Personal Writing & I Am Special
Lesson 3 - Thinking of Ideas to Write About & My Favorite Things
Lesson 4 - Selecting a Title & Friends
Lesson 5 - Beginning, Middle, End & Trains
Lesson 6 - Using a Period & Colors
Lesson 7 - Using Word Families & Rhymes
Lesson 8 - Story Web to Organize Ideas & Insects
Lesson 9 - Personal Narrative Story & TV/Movies
Lesson 10 - Chronological Order & Car/Trucks
Each Lesson is divided into 8 Activity Sets which includes Guided Writing Practice. I love that aspect. I'm not just handing my kids an assignment to complete. I'm sitting side-by-side with them guiding them each day. This allows us to work together to create an example for them to follow as they write their own stories. It is also important to note that each lesson encourages the use of a children's book. In reading this together, the students are able to see yet another example of quality, correct writing.
Activity Set 1: Guided Writing Practice only
Activity Set 2: Pre-writing Activities and Picture Book
Activity Set 3: Brainstorming
Activity Set 4: The Writing Project
Activity Set 5: Editing and Revising
Activity Set 6: Activity Set Worksheet
Activity Set 7: Publishing the Project
Activity Set 8: Want To Do More?
WriteShop Primary A
includes engaging, hands-on, fun activities and projects including:
Writing and Publishing Projects
Paper plate faces
Story clothesline
Paper cookie friendship book
Accordion story book
Paper plate story pocket
Rebus
Other Activities and Projects
Paper coins and purse/wallet (high-frequency vocabulary)

Stick puppets
Motion songs
"Stand, Hop, Sit" game
Rhyming words placemat
Taking a "Bug Walk"
Stuffed animal "Editing Buddies"
Take a look at a
Sample Lesson
to get a better feel for how the program is structured. Also, to accompany
WriteShop Primary A
, there is an
activity set worksheet pack
available for
$4.95
. These worksheets fit right into the schedule and are an added help.
Because I am now a huge fan of WriteShop, it is my plan to have my kids work through the entire series. Presently, for K-3 students,
Primary A, B, and C
are available as e-books or physical books from
$24.95-$32.95
. Students in grades 3-5 would work in
WriteShop Junior D
which retails for
$34.95
(e-book) or
$39.95
.
WriteShop 1
and
WriteShop2
are available for students in grades 6-12.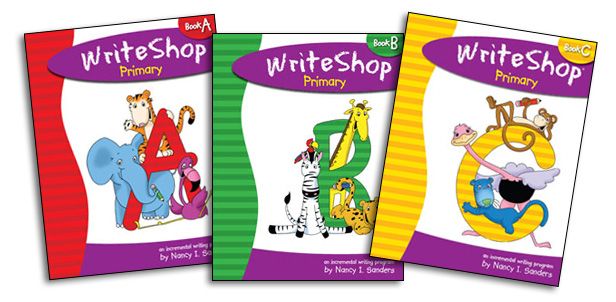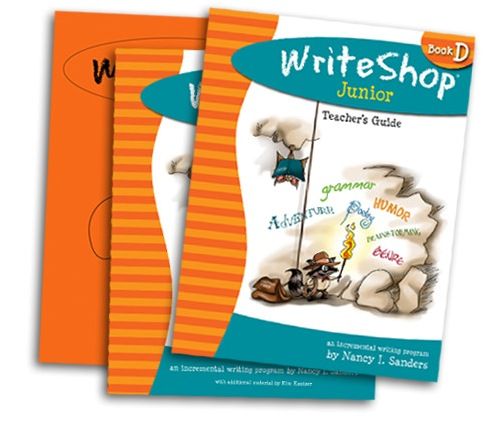 We had such a wonderful experience with Write Shop. Having lesson one focus on animals was perfect for my animal junkies. It also just so happened that we have a new kitten and that coincided with the writing about our pets. Then, to complete our first lesson the kids turned their published writing into a kite to fly through the house which equalled great fun. In our second week, we used our calendar to write about the special things happening in our house each day of the week. The kids' published products were paper plate face books. Their likeness on the front and their writing inside. What a cute idea! I'm excited to continue
WriteShop Primary A
with my little ones. However, you don't have to rely on just my opinion. Read what other TOS Crew Members had to say about this product on the
TOS Crew Blog
.

Disclaimer: I was provided a complimentary product in exchange for my open, honest review.