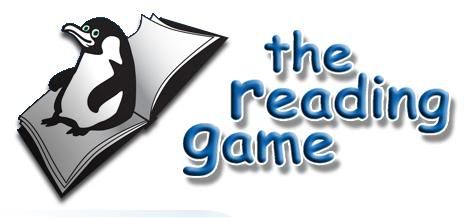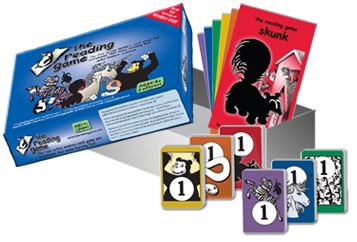 As you can see from the video below,
The Reading Game
is a fast-paced game designed to hard-wire sight words into the long-term memory of a young, emerging reader. 6 storybook characters: skunk, snake, bear, penguin, unicorn, and zebra are featured in this simple game. An individual deck of cards is played in six stages, each of which teaches five words. At the completion of each book/card deck, a child has mastered 30 new words.
Therefore, after completing all 6 stories/card decks, a child will wield command of a reading vocabulary comprised of 180 words. A couple of interesting facts from
The Reading Game
website:
60% of the words in "The Reading Game" are on the Dolch Word List for pre-k and k and makes up 54% of dolch words for Pre-K, K and 1st Grade.

Of the first 100 most commonly used English words (source The Reading Teachers Book of Lists, Third Edition by Fry, et al) "The Reading Game" incorporates 88% of the most common twenty-five words and 63% of the first 100.
I did not use this game as a stand alone curriculum. Instead, it served as a supplement to our current phonics/reading program. However, whenever it was time to play, they were all very excited. Due to the fact that they were already familiar with match games, there was very little to explain as far as the instructions. All three were able to understand and play immediately. Because so much of our learning is done together, I modified the idea of a tutor/child - 2 player game. Instead, all 3 kiddos were players and I served as a tutor (if needed). It did make our games move much quicker, but we just played more frequently. Actually, I believe, they probably got more practice reading the words aloud. Because some of the words in the first book were already familiar, the children moved through the red Skunk cards quickly. Caleb is reading the book independently, and he has moved on to the orange book, Snake.
While not an issue for the kids, my only dislike of this product comes from the books. There is no attention to grammar. Beginning words of a sentence aren't capitalized and there are no punctuation marks. My personal preference is to always surround my kiddos with correct models. Caleb knows how to voice a question because he recognizes the question mark. Without it, I noticed he did not read with the same inflection.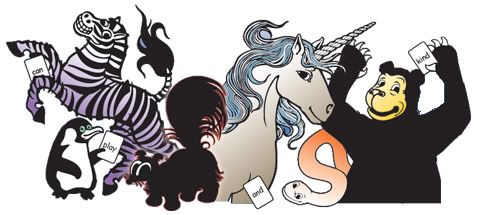 My family has benefited from this product, and I would recommend it to families with Pre-K through 1st grade children. I encourage you to visit the
TOS Blog
. Read what other crewmates have to say about
The Reading Game
.
Disclosure: I was provided a complimentary product in exchange for my honest opinion and review.