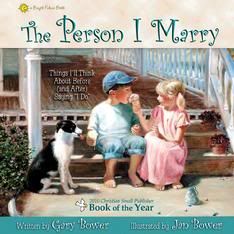 The Person I Marry
Things I'll Think About Long Before Saying "I Do"
$11.99
Created by award-winning author & illustrator team Gary & Jan Bower

Hardcover - 32 pages

Beautifully illustrated

Recommended for ages 4 and up

Awarded 2010 Book of the Year by the Christian Small Publisher Association

Christian message promoting respect, kindness, and purity.
***********************************************
My boys still think girls are pretty "icky." Jeremiah believes he will get married someday, but Caleb is unsure because he doesn't know if he'll find a girl who wants as many pets as he does :-) My princess Rachel plays "marry" a lot. When reading the book to them, they paid more attention to the fabulous illustrations of children in the book. Still, we were able to have some meaningful conversations about character traits such as respect, humility, sacrifice, kindness, etc. The book was an incredible lesson in how we should treat people.
While in all appearances this is a children's book,
The Person I Marry
, is actually a story that would bless a wide variety of audiences. I know my three will benefit from reading it again as they are older. As suggested on the website, I concur that this would make an excellent conversation starter for teens. Reading the book would be a great way to open up a discussion about purity, discuss respect in dating and courtship, and ultimately help adolescents clearly define what they should look for in a mate when the time is right.

This book would make a wonderful gift for an engaged couple. A subtle reminder to hold fast and keep their commitment to purity as well as a picture of the way things should be. Wrap the book up as a gift for newlyweds. Likewise, they will benefit from the book's timely truths.

Take a sneak peek at the book in the video below.
Other crewmates on the TOS Homeschool Crew reviewed The Person I Marry.
Be sure and read what they are saying HERE on the TOS Crew Blog. I also encourage you to t
ake a look at the other books in the Bright Future series.
Contact Information:
E-mail:
garybower@charter.net
Bower Books & Fine Art

A Division of Storybook Meadow Publishing Co.
7700 Timbers Trail
Traverse City, Michigan 49684Phone: 231-941-0899 * Cell:
231-590-0077Orders: 888-898-3207 * Fax:
231-947-8903
Disclosure: I was provided an e-copy of this book in exchange for my honest opinion.