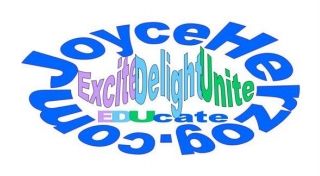 Joyce Herzog
is a well known educator with years of experience teaching children with learning disabilities. She has developed a unique reading system and countless other resources to simplify learning. Her products reach out to students who are failing and provide them with many opportunities for success and mastery.
: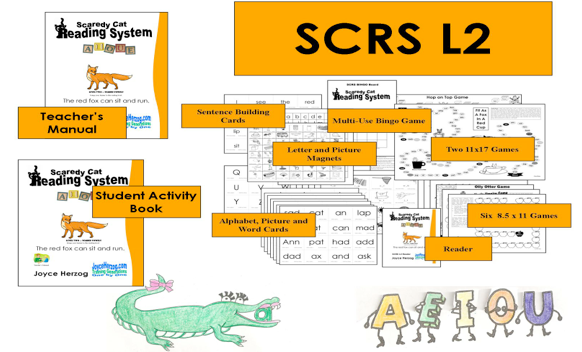 When given the opportunity, I chose to review the
Scaredy Cat Reading System Level Two
with my son, Jeremiah. The product retails for $75 and includes: a Teachers Manual, Student Activity book, Fun Learning Pack, magnetic letters and pictures, The Story of LetterMaster, student reader, and an audio CD.
Download a sample of the Teacher's Manual.
Download a sample of the Student Activity Book.
Download a sample of the Student Reader.
Scaredy Cat Reading System Level Two
is a mastery based phonics system for young and/or struggling readers in the K-2 range. Reading, spelling, comprehension, and language skills are all taught. SCRS L2 focuses primarily on the mastery of short vowel sounds. Mastery is obtained when the student is able to read 30 words per minute and spell 9 out of 10 randomly chosen words. Jeremiah had previous experience with the short vowel sounds, but because he still confuses "i" and "e" sounds and struggles with fluency the placement test landed him in level 2.
Upon receiving the materials, I familiarized myself with the various pieces of the program and spent time reading the teacher's manual. It contains an introduction to the program, entrance and exit exams, teacher training, the concepts of the Scaredy Cat system, instructions to teach spelling, explanations of the games, daily menu plans, activity extensions and more. There are lists of fabulous ideas for working with words, sentences, and spelling. I encourage you to take a few days to digest all the information and to prepare the materials.
Another interesting concept in SCRS L2 is the daily menu. Joyce suggests to add variety to your days and to always quit a few minutes before a student becomes restless or bored. "Appetizer Days" simply whet the appetite for bigger and better things to come. "Main Course Days" are heavier loads while "Salad Days" are a bit lighter. If the student is in need of some positive reinforcement or a fun reward, go with a "Dessert Day!" Multiple suggestions are offered for each day and the teacher/student have the freedom to choose what they deem best.
I envisioned this program being our "be all - end all" in Jeremiah's struggle to read. I wanted to LOVE it, but unfortunately, it proved not to be a good fit for our family. From a Momma standpoint, I'm an attention-to-detail kind of gal and the many typing/grammatical errors within the teacher's manual and student text really irked me. In fact, I even found the student book mislabeled a lesson page. I was also disappointed with the print quality of some of the materials. Several of the student activity pages and the magnets were very blurry and/or faint.
For Jeremiah, he never really bought in to the premise of "scared" and "brave" vowels. "They're just letters, Mom!" was his response :( He did not resonate with The Story of the Letter Master at all. However, he did enjoy playing the games and completed 5 of the 10 lessons. Moving forward, I will have Jeremiah finish the remaining four lessons. If for nothing else, his fluency has improved, and for that I am grateful. Rather than follow the system verbatim, I'm picking and choosing tasks I believe will be both beneficial and enjoyable... lots of games and selections from activity lists.
While
Scaredy Cat Reading System Level Two
didn't prove to be ideal for our family, I could see it working well for a young emerging reader who enjoys fantasy and make believe. The beauty of this program is that it is unscripted, unscheduled, and designed to move at the student's pace. Read other crew members experiences with this program as well as several other products offered by
Joyce Herzog
.