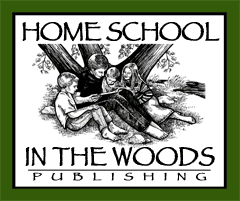 Having had a poor history experience in her school years, Amy Pak didn't look forward to teaching the subject to her children. However, studying through living books, writing, and drama, she actually fell in love with history. She then began using her abilities as a graphic designer to develop beautiful timeline figures, lapbooks, and history packs. Thus, Home School in the Woods was born, and homeschooling families have been utilizing the high quality, well-crafted, hands-on history products ever since.
As a member of the Schoolhouse Review Crew, I had the opportunity to review a study designed for elementary students,
Great Empires
. The download version is available for purchase for $18.95. A CD version can be bought for $19.95.
Historical overview pages for the 14 Great Empires

Activity Summary pages for each empire

Detailed instructions for each activity

Timeline and Historical figures for each empire

A World Map and individual empire maps

Games and crafts

Recipes

Suggested Reading Lists

Additional links: pictures, text, videos, and virtual tours
The empires focused upon include:
Ancient Egypt,
Ancient Greece,
Ancient Rome, Ancient China, Arab-Muslim Empire, Mongolian Empire, Viking Empire, Spanish Empire, French Empire, English Empire, German Empire, Japanese Empire, Russian Empire, and The United States of America.
During the review period, my family chose to study the empires in the order listed. Mainly, we followed the study guide and completed the projects, but we did take a few rabbit trails to study topics further. For example, while studying Ancient Egypt, we watched
The Prince of Egypt
movie, looked at pictures of pyramids online, the boys built Lego pyramids, and we read about King Tut.
You may choose to use this study in another way as I envision multiple ways to do so. You could study the empires in chronological order or select the empires in the order that most appeals to your children. The studies could simply be overviews and completed exactly as is in the guide. Conversely, it could serve as a springboard for a more in-depth study of each of the empires. Finally, it could supplement another history program.
Beginning with Ancient Egypt, I quickly found that the overview pages (while there are only 1-3) are jam-packed full of information. I found that throwing all those names and dates at once could be overwhelming to my crew - 6, 7, and 8 years. For that reason, I did some paraphrasing and omission in my reading aloud. The other activity that needed lots of parental guidance was the mapping exercises. Getting everything in the correct spot proved to be a bit challenging for my three, but they still enjoyed the process.
By far their favorite part of the study would be the hands-on projects. I did improvise some in this area as well. When making their Egyptian cartouches, I opted for them to use play dough opposed to making salt dough. They loved using the hieroglyphs to write their names. It was very "spy-like and secret code-ish" in the boys' minds. They also really got into the study of the Greek soldier, even if it looks like he wears a dress - Ha! You can see their unique shield designs below.
The download is extremely easy to navigate. Clickable buttons transport you to the various maps, activities, printables, and overviews. The study is well organized and pleasing to the eye. I found it easy to work with from a teacher's standpoint, and my children proved to be willing and enthusiastic students. I foresee using Home School in the Woods products in the future.
Be sure and click below to read other crew reviews. In fact, there were two other products being reviewed as well, so you won't want to miss learning about them. Another suggestion would be to check out the
samples and freebies
offered by Home School in the Woods. Follow on
Facebook
and sign up for the Hands On Teaching Tips Newsletter.