Missions is something important to our family. Both my husband and I have had the opportunity to serve on mission teams and have traveled to Haiti, Mexico, Guatemala, and Ethiopia. It is our desire for the whole family to be able to serve together in missions at some point, so we strive hard to provide our children with a global perspective, understanding of the Great Commission, and a desire to serve both the physical and spiritual needs of others.
The
Growing Up Wild
DVD series helps us to discuss missions with our children. The videos introduce us to the Wild family who serve as missionaries in Papua, Indonesia. It is the hope of the Wild family that each episode will not only educate children about present day missionary life but will raise up the next generation of workers for the field.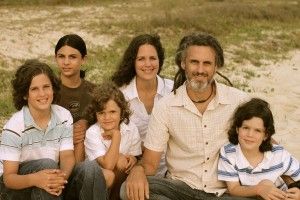 While the suggested age range for viewers is 5-12, our whole family enjoyed the videos. The DVD series could serve as a compliment to a homeschool and/or Sunday School curricula. However, the uses really are endless. You may consider showing the DVD's at your church during VBS, youth groups, summer programs, or special events. Private and Christian schools could incorporate the videos into their school day. Actually any setting where the audience could benefit from seeing the ins-and-outs of modern day missionaries would be perfect.

We recently reviewed
Volume 1
and
Volume 4
in the
Growing Up Wild
Series. They were a hit with my kiddos. They enjoyed learning about "a day in the life" of a missionary kid.
In
Volume 1
, viewers learn how a home is constructed, see some of the creatures of the night, find out how supplies are obtained, and discover how natural resources serve the Wild brothers in daily life.
Volume 4
introduces native wildlife, war and hunting, cultural life, and a tribal calling. The videos were informational, educational, entertaining, and inspiring.
Each volume contains three 15 minute episodes - perfect for my littles attention span. The short length allowed plenty of time for us to have discussions and complete follow-up activities. Accompanying each volume, there is a CD activity guide included. This guide offers families extension ideas designed to assist them in connecting with the Wild family, learning more about the world they live in, and challenging them to think globally. Click
here
to view a sample of the activity guide.
One of the activities we spent a considerable amount of time on was exploring different housing designs. We noticed different types of houses as we drove around town, but we also explored the houses constructed in other cultures and areas of the world. We pulled up pictures from our time in Ethiopia. While we were unable to travel to Jeremiah and Rachel's village, we did venture out of the capital city and head south. We were able to photograph homes that would have been similar to those they would have lived in. Jeremiah still has memories of his first home and was able to talk about the sleeping arrangements, cook house, and some of the construction materials.
The kids also made encouragement and thank you cards to send to missionaries we support. Rachel was in charge of the outside cover design. The boys (with some spelling help from Mom) wrote the letters to be glued inside. Below are Caleb's sweet words.
The
Growing Up Wild
collection would be a great addition to any homeschool. Each of the volumes retails for $18.99 + Shipping & Handling. The entire 5 DVD Series can be purchased at a 15% discount for $80.99 + Shipping & Handling.
I know our family enjoyed getting to know the Wild Brothers and getting a glimpse into their lives in Papua, Indonesia. We pray for their continued ministry. I would encourage you to get to know them as well! Other crew members are blogging about their experiences with
Growing Up Wild
. Read by clicking the button below.

Disclaimer: I was provided Growing Up Wild Volumes 1 & 4 in exchange for my honest review. All opinions are my own.