KinderBach
uses a group of charming characters, The Piano Pals, to introduce young children to the piano keyboard. In the process, kids ages 3-7 gain a basic knowledge of note reading, rhythm, singing, technique, and composition. Even better, it all takes place in the non-threatening environment and comfort of your own home!
Karri Gregory
, author and founder of KinderBach, and the endearing Piano Pals teach piano pedagogy through online videos. Currently, in the online program there are 6 levels each offering 10 weeks of lessons. Each week is broken into 4 sessions for a total of 240 lesson segments.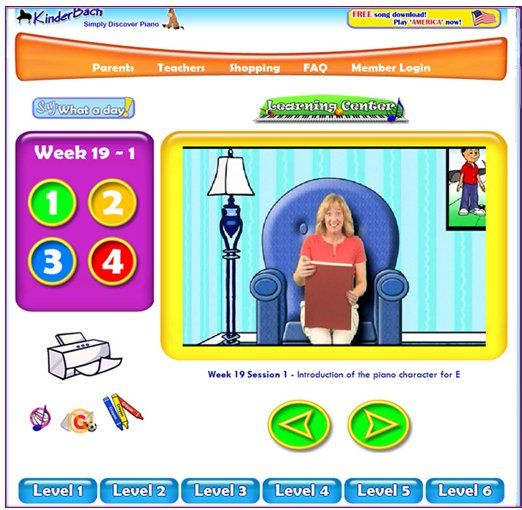 The 6 levels total almost 22 hours of video. On average the lessons are approximately 5 minutes in length. This is perfect for the limited attention spans of young children. It is also manageable to repeat the video a second or third time to reinforce the information, or view more than one video in a sitting if the lessons are easily completed by your child. Being able to move at your own pace is one of the positives of this online video program.
As expected, the lessons begin with very basic information. Kids are familiarized with the piano keyboard, taught to distinguish between high and low pitches, and experience steady beat. Lesson continually progress to the point that children are reading simple scores and understand basic music theory.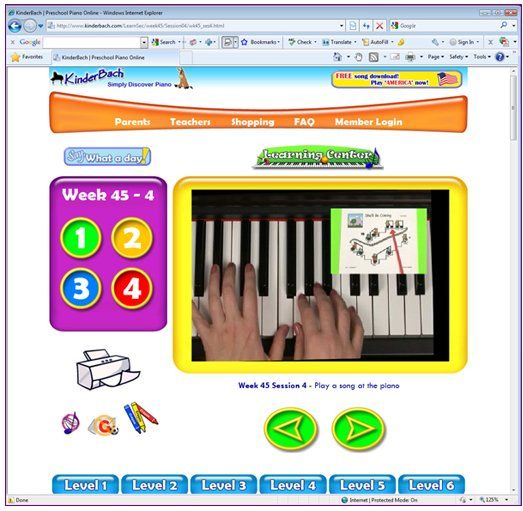 To compliment the videos, each level has a printable PDF activity book. You could download the entire book or choose to print out individual pages as needed. Appealing to the young audience, it is not necessary for the children to be able to read in order to complete the worksheet. Karri explains the activities during the sessions.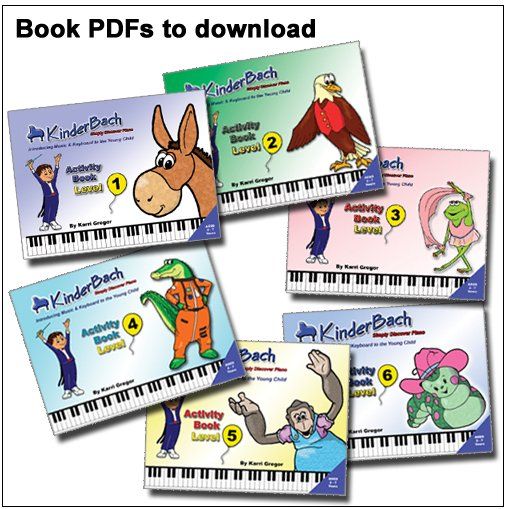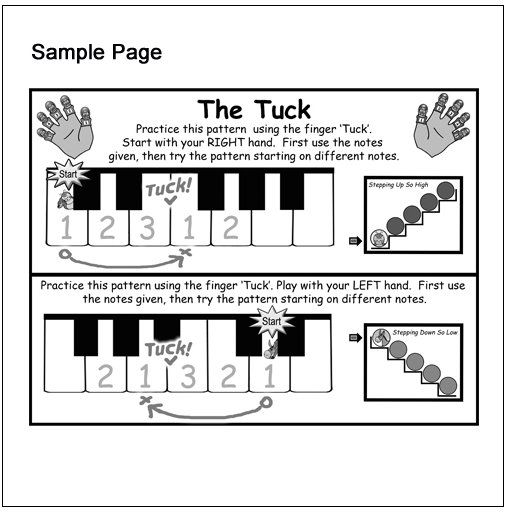 Online memberships are available to purchase and include:
* Access to all web lessons by computer, iPad, Android Tablet, Kindle Fire or Nook.
* Accompanying downloaded PDF activity pages
Purchase options include:
$7.99 a month - Billed in a one time annual payment of $95.88
(Great Value! Save 60%)
or
$19.99
monthly subscription - Billed monthly for a year
(12 separate payments)
However, before buying, you may want to check out a few
sample lessons
. You are also able to access the first 2 weeks of the program free AND there is a 30 day money back guarantee! A new option is the
KinderBack app
.
The first 2 lessons and 1 game are offered free. Lessons can be purchased individually through the app afterwards, or you can purchase the "Classroom KinderBach: School Version" for just $26.99.
Kinderbach is also sold in
DVD
form. Finally,
Songbooks
,
Activity Packages
and
Value Packages
are available for purchase.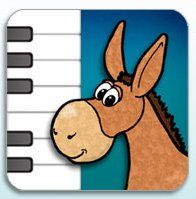 Having reviewed this product before, my 7 year old boys had little interest in participating. So my newly 6 year old daughter was the one to use
KinderBach
. Because I'm a firm believer in having children only work with true-to-size keyboards or pianos, we set up the laptop on our digital piano to view the lessons. When completing the worksheets, she either used a clipboard or moved to the kitchen table. I appreciate that
KinderBach
does not color, sticker, or number the piano keys. Instead, one of the very first things a child learns is the groupings of either 2 or 3 black keys. Then, they are taught to identify where the individual notes live on the keyboard through cute, clever stories featuring The Piano Pals. Rachel found this memory aid extremely helpful as well as the available placement cards.
Having a degree in Music Education and having taught private piano students, my personal belief in regards to the optimal time to begin piano lessons occurs simultaneously with beginning reading. For most children, this usually occurs at or near 6-7 years of age. I also believe there is no substitute for a one-on-one, in-person lesson taught by an enthusiastic, knowledgeable teacher. That being said... prior to individualized private study, I'm definitely in favor of exploratory, foundational group music classes. I also would endorse the
KinderBach
online program as a solid introduction to the piano keyboard for young students. While not a substitute for lessons, in my opinion, it would make a wonderful precursor to formal piano lessons. It's perfect for preschoolers and kindergartners!
Need more information? Click the button below to read other Schoolhouse Review Crew members experiences with both the online program and the app. The crew always shares such valuable and pertinent information in their reviews to help you make the best choices for your family.

Disclaimer: I received a free 6-month subscription to KinderBach in exhcange for an honest review.