Factually speaking, I'm no camper, girl scout, nature nut, etc., yet my kids LOVE the outdoors! Oh, I definitely appreciate God's creation, beautiful sights, and social gatherings outside. However, I'm quite content indoors with my A/C or heat. In regards to my children, their preference will always lean towards the backyard, a hike in the woods, playing at the park, a stroll through the zoo, and the list goes on. Combine the great outdoors with animals, and the kids have found their utopia! For this reason, it was no shock that one of the attractions on our recent vacation was a hit!
While in North Myrtle Beach, SC, we visited
Alligator Adventure
. This site
hosts over 800 alligators. There were itty bitty babies and sleeping giants. Well, that was until feeding time. Then, we saw these mammoth creatures jump out of the water their chompers ready to devour.
Alligator Adventure
is not just home to the gators. You will actually find tortoises, turtles, snakes, frogs, lizards, exotic birds, bats, lemurs, marmosets, bobcats, tigers, servals, and caracals. There are also a number of crocodiles including UTAN - King of the Crocs, the largest crocodile in the United States, measuring over 20 feet long!
The weather was gorgeous, and we enjoyed our time in nature. We even managed to squeeze in some educational entertainment as well. There were three animal shows we were able to catch. The first was a talk about the tigers, and we were able to see them fed. Likewise, we saw an impressive alligator feeding. By far, our favorite show involved three animals. A warthog was brought out first and even did a few tricks. Then, a snake and alligator were featured. The kids were excited to pet these two critters. I love the pic of them cheesing with the lil' gator.
Whether at home or on the road, it's great to make family memories. For my littles, they are best outside with animals close by. If you are ever in the North Myrtle Beach area, I would recommend a stop at Alligator Adventure. I believe your family will enjoy it!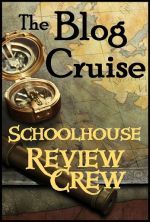 Read about other Schoolhouse Review Crew Members and their experiences
Exploring the Great Outdoors
.