When a 5, 6, and 7 year old reside in the home, there is one thing guaranteed - A LOT of PLAY takes place. For this reason, I jumped at the opportunity to review a new line of games offered by CALICO, LLC., an award-winning design studio that provides product development, branding, design, and strategic marketing to toy, game and publishing companies. Their clients include some of our families favorites such as: Scholastic, Weekly Reader, Briarpatch, Zobmondo!!, Fun2Market, Peaceable Kingdom Press, Educational Insights and Free Spirit Publishing.
There are three games available in the
playPLAY
series:
ColorPlay GAME, PaintPlay GAME
, and
StoryPlay GAME
. All of the games are specifically designed for children ages 5 and up. Likewise, each of the games encourages play through creative activities.

Once our box of goodies arrived, it didn't take long for my crew to get started. Boxes were opened, game pieces ready, and imaginations activated. It really did this Momma good to join the littles in their play and see what fun they were having opposed to seeing their faces glued to a screen of any size. I know I still have Momma guilt for the crazy amount of tv/video game time the kids had over the summer, so I was happy to see that their little brains hadn't turned to mush. They are quite the masters at imaginative play, so the games were a natural fit!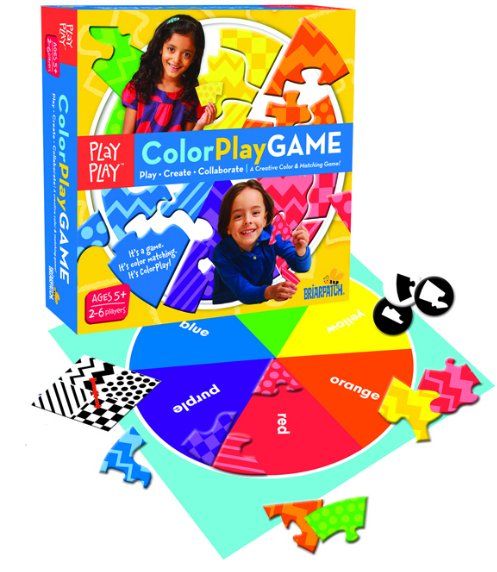 I decided it may be best to play the games in order based on the recommended age of the player. Therefore, we started with
ColorPlay
which is intended for children ages 5 and up. Of the three offerings, it was probably my kids least favorite. The boys (ages 6-7) said it was a "baby" game, but that was after playing the game using the first option...
Pattern It!
Playing this way, the kids were working cooperatively to find patterns and create a color wheel.
When we moved on to
Shape It!
and
Build It!,
they were much more willing players. Boys and build in the same sentence - always a winner!!!
Within this particular game box, you will find 24 sturdy, double-sided color/pattern shapes, a color wheel game board (20″ x 20″), 24 Shape It cards, a game spinner, and instructions
.
This game is played in roughly 20 minutes which is age appropriate for the attention span of the intended players ages 5 and up. Skills such as color recognition, pattern recognition, cooperation, and imagination are the key focus.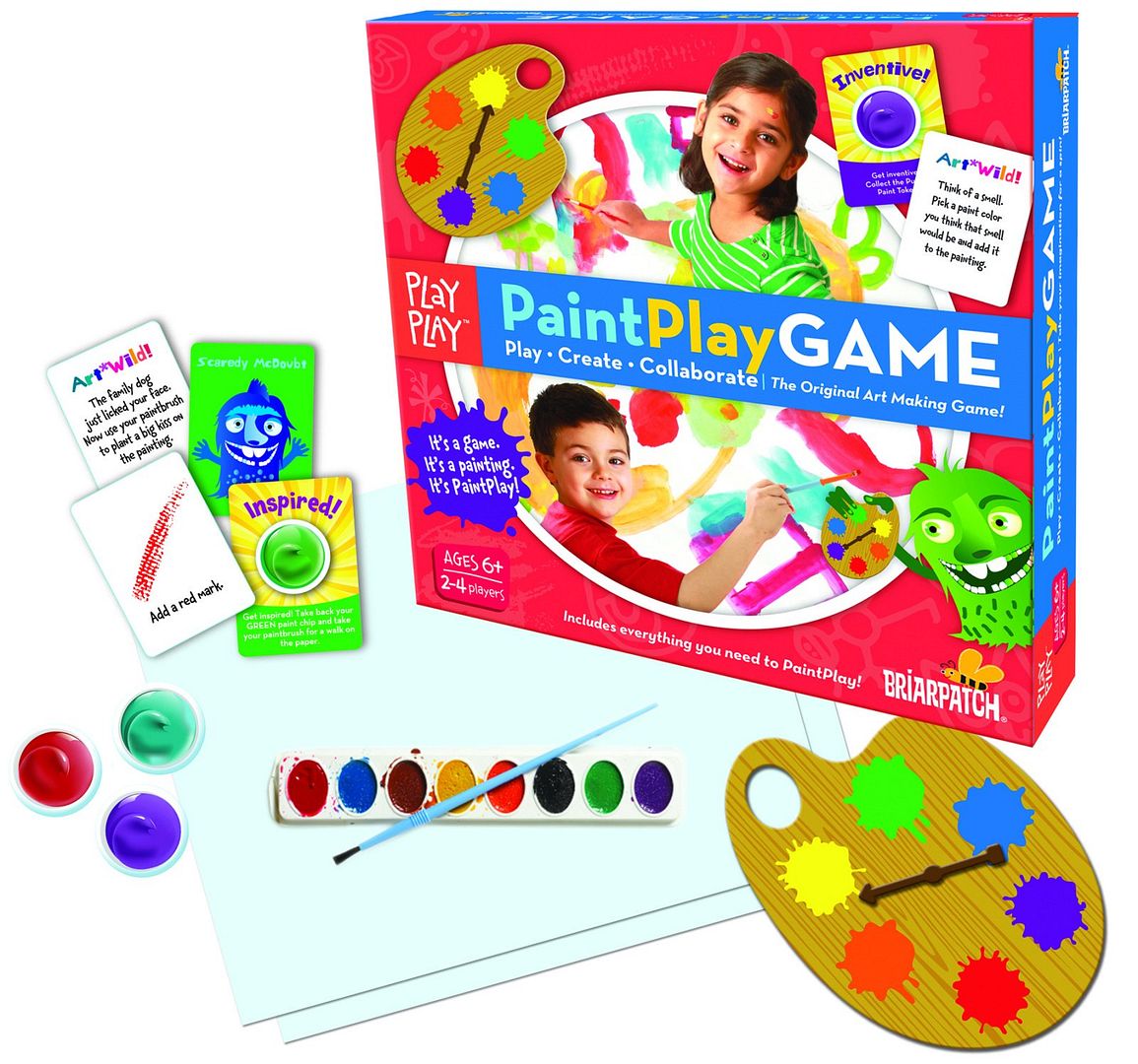 A natural progression from colors seemed to be
PaintPlay
.
In order to play this game, 2-4 players ages 6 and up are needed. Collectively, the work together to create an art piece all while doing their best to avoid the six "
Meanies
." While very cute, these little monsters are trying to steal the players creativity. The facial expressions and "ahh man's" from my kids when they encountered a "
meanie
" were so comical. I had fun just watching them!
The game's focus is to build on color recognition and matching skills, and again is perfectly times at approximately 20 minutes to complete. In this game box, 6 tokens and 6 "meanies," 2 paint brushes, paper, a game spinner, 40 Action cards, and an eight color paint tray are included. I will tell you it is a good idea to have extra paint and paper on hand if your kids are as big of fans of this game as mine. There is just something magnetic about paint when it comes to children. They can't get enough of it!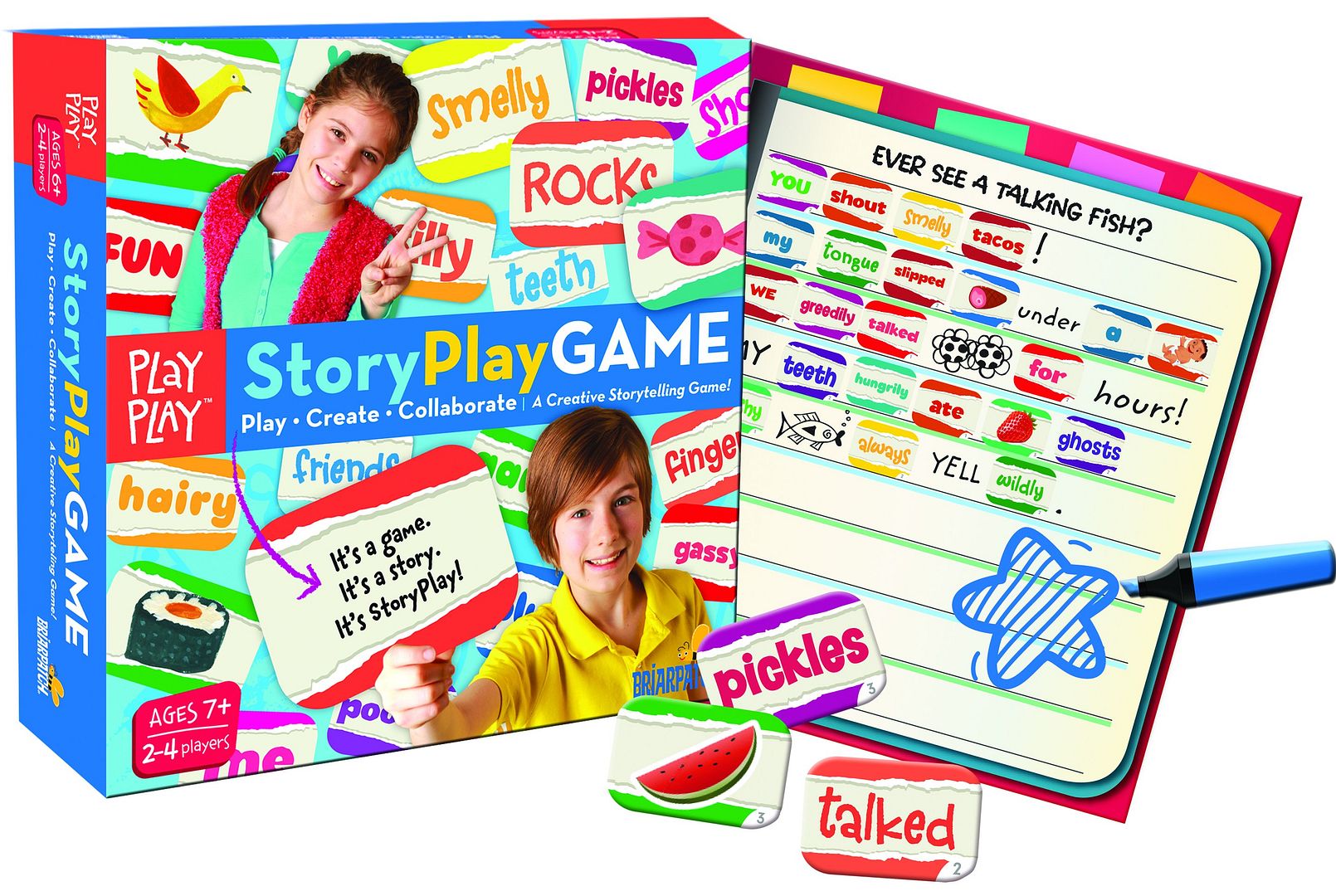 In the progression of games,
StoryPlay
was last because the intended player age is 7 and up. For this reason, there was some assistance needed for my emerging readers and writers. However, I was easily able to accommodate them, and it didn't hamper our play. We all had fun brainstorming and creating.
2-4 players are able to choose from 3 game options and each takes only 10 minutes to complete, so multiple games are easily played in one sitting. The players unite to create a story collage using the included Write & Wipe board and pen. 125 double-sided word and image titles are also provided to spur on the creativity and add to the fun.
Overall, my children really enjoyed playing the games, and I foresee they won't get lost on the shelf anytime soon. They will be played repeatedly. Also weighing in from my perspective, a common theme and possibly my favorite part of all three games - there is no winner or loser! The games aren't divisive and instead are played and completed together as a family. I love when family ties and relationships are strengthened, and what better way to do this than through play?!!
Both the individual
playPlay
games and the complete set became available for purchase this summer at large chains such as Toys R' Us and Barnes and Noble. Other specialty stores throughout the USA and Canada are also carrying the products. If you have questions about the playPlay games, feel free to use the website's
contact form
to gain more information. In addition, if you happen to be one or know a retailer interested in carrying the playPlay™ line, please call
Briarpatch
at 973-376-7003.
Finally, be sure and click the button below to read what other Schoolhouse Review Crew members are saying about their experiences with the
playPlay
games. I know I enjoy reading what fellow homeschool Moms are saying. Also, if your kids are a little older, you will want to read the reviews of those who had the opportunity to use the card game
Notable Novelists
.

Disclaimer: I was provided the entire line of playPlay games free of charge in exchange for my honest review.