Physical Education? In a homeschool? Now, how exactly is that accomplished? For us, it would depend on when you asked. One year, we were involved in a P.E. program at our local YMCA designed for homeschool children. They gathered with same age peers for 40 minutes of swimming, 40 minutes of sports instruction, and 40 minutes of fitness. The following year the kids attended a co-op that included a 30 minute gym time.
While there were many positives to these programs, there were some drawbacks as well.
Only met once a week
Involved travel
Involved cost (YMCA monthly/co-op yearly)
Kids only interacted with same age peers
The quality of the instruction varied
Often a lack of consistency
Due to our current situation, the opportunity to participate in a physical education program outside our home was not an option this year. So... I was asking the same question as above. How exactly does P.E. work at home? I mean with 3 kids a game of dodge ball won't last long, "Duck, Thankfully, the answer to my questions came in the form of a review product from a wonderful company.

Family Time Fitness
is dedicated to the physical education of children, family fun, exercise, and the eradication of childhood obesity. Possibly, you don't think it is important to include physical education in your homeschool day. However, I beg to differ. Check out the image below of a brain after only 20 minutes of walking. Now, imagine the brain activity after 30-45 minutes of a professionally planned physical education lesson.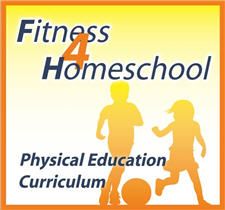 With
Fitness 4 Home School Core 1 Curriculum K-8
, you are given 260 fully planned, detailed physical education lessons. Each lesson clearly defines the equipment needed, warm-up exercises, an activity/game play, and a cool down. Additionally, an outdoor activity is offered. This is a great extension to keep the blood pumping and to enjoy the outdoors weather permitting. My kids found these to be their favorite element of the program. Soccer Red Light/Green Light, Hula Hoop contests, and Monkey in the Middle were all big hits. In fact, I would often look outside and find them playing these games in their free time.
From a teacher standpoint, I have two big praises of this program. The lessons require very little prep time. Within the lesson, you will find everything you need including embedded videos that illustrate the activities being performed by the creators own children. These videos often reiterate that the goal is not perfection but the important part of bonding as a family through physical activity. Also available is a one page summary of the lesson. While it doesn't take the place of the parent reading through the detailed plan, it serves as a great outline to print off for the day of the lesson. I used it as my "cheat sheet" and reminder of the order of activities.
Secondly, I love that this program doesn't require a large curriculum or equipment investment. The program is only $57.00. As far as equipment, most of the items needed were kids play staples already taking residence in my garage: jump ropes, playground balls, hula hoops, etc. If there was an item we didn't have, it was easy to adapt to something readily available. For example, we were lacking cones, so we improvised and used our beach buckets. The program is great about recommending possible substitutions.
Fitness 4 Home School Core 1 Curriculum K-8
really makes it possible for parents to teach physical education and fitness to their children without possessing any prior knowledge in physical education, kinesiology, and athletic development. You didn't have to grow up the jock in class to pull this off. Even those of you who refused to "dress out" for gym class will appear to be a pro all because of the experts in the field who have contributed to this program. Having the combined expertise of fitness trainers, nutritionists, and those keenly aware of body movement and development a stellar program was designed that suits multiple ages and ability levels.
Will we continue using
Family Time Fitness
? Absolutely!!! My kids really enjoy the activities... ok, there is some complaining about some of the calisthenics warm-ups, but they are getting used to it. Although, my growing prego-belly is finding that I'm the one doing most of the struggling. Ha!!! It is recommended to use this program 5 days a week. Admittedly, we have only been able to do so 2-3 days a week, so possibly in the future we may look to restructure some of our days to be able to add these lessons. The beauty of homeschool though... just because you can't use the product as intended does not mean that you lose out on all the value.
Even though I recommend this program, I do encourage you to click the
button
below and read other Schoolhouse Review Crew members reviews. I would also suggest that you spend some time on the
Family Time Fitness
site and read up on this great product. Also, follow them on
FACEBOOK
and
TWITTER
as well as sign up for the newsletter.

Disclaimer: I was provided the F4HS Core 1 program in exchange for my honest review.