In order to provide children with a solid and successful education,
A Thomas Jefferson Education
encourages parents to apply the
7 Keys of Great Teaching
:
Classics, Not Textbooks
Mentors, Not Professors
Inspire, Not Require
Structure Time, Not Content
Simplicity, Not Complexity
Quality, Not Conformity
You, Not Them
Discovered by
Oliver and Rachel DeMille
,
TJEd
is an educational philosophy and a methodology by which great individuals throughout history have been educated. By applying the same principles, modern students are achieving great success and love learning. This is most likely because
TJEd
is designed to develop and refine each child's inner genius.

Members of the Schoolhouse Review Crew had the opportunity to review TJEd's subscription programs,
This Week In History
. Each week lessons are sent via email. This cross-curricular treasure in your inbox will be loaded with pictures, active links to websites, videos, suggested activities, etc. Each day will become a great adventure.
The subscription is available for $9.99 a month and can be accessed in two ways: a dedicated blog feed and through email. Additionally, the whole year's archive can be accessed by subscribers at any time. Because the content is searchable by date, topic and key word, it is easy to plan ahead for upcoming dates or go back for further study on a point of interest.
This Week in History
offers many benefits to you the homeschooling parent:
relieves fear, stress and burnout
energizes your kid-school
fills in the gaps
cultivates cultural literacy
facilitates state or provincial compliance
correlates resources for co-ops, classrooms and family learning
harnesses the power of technology in a classical leadership education
harmonizes with Unschooling, Charlotte Mason, Montessori, Trivium/Quadrivium, IEW, eclectic, etc.
delivers new ideas and areas of learning to you and your child
instigates discussions and projects that expand wisdom and understanding
connects the subject areas–from music to math, from geography to world religions, from hobbies to science projects, etc.
motivates you and your students to greater excellence
View
sample
weeks.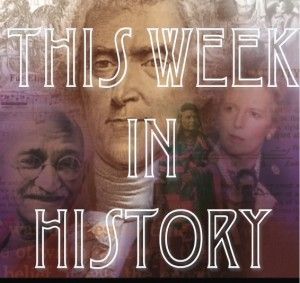 Honestly, I wasn't jumping for joy when I was chosen to review
This Week In History
. I'm already settled on our history curriculum to the fall, and I didn't believe this would tie in very well. Likewise, there are lots of freebies you can find on the Internet by searching This Day in History, etc. and find a little snippet of info. However, I was pleasantly surprised. The information sent was sufficient but not overwhelming. It could easily be added to the school day without replacing a curriculum favorite. Overall, the topics were appealing to my children. Some we explored at great length, others we took a quick peak, and still others we omitted completely. As the parent, you have the freedom to choose, and I believe, you will find your children's interests guide this process.
Last week, one of our favorites was learning about cable trolleys which led us to San Francisco. While there, the kids did mazes, watched a virtual tour of the museum of the city, talked about earthquakes and the Gold Rush, visited the Golden Gate Bridge, and even listened to some great music. By far, the favorite was visiting a website for Aquarium of the Bay. Wow - that's a lot! Believe it or not, that was just one day's worth of incredible information.
Be sure to click the button below to read what other Schoolhouse Review Crew Members are saying about This Week in History. Also, check out the many resources available for
purchase
from TJEd. You may find a book, e-book, or audio download to add to your library.

Disclaimer: I was provided a subscription free of charge in exchange for my honest review. All opinions are my own.