"I hear and I forget, I see and I remember, I do and I understand."—This Chinese proverb guides all
AIMS
material. The
AIMS Education Foundation
is a non-profit foundation with the sole purpose of deepening students' understanding of math and science. Children can't possibly be disinterested when given the opportunity to actively explore these subjects. Therefore, it is no surprise that their products are hands-on and engaging. Quoting from the
AIMS
website, "Telling" is not our style; we believe in "doing."
Contact Info:
AIMS Education Foundation
P.O. Box 8120
Fresno, CA93747-8120
888-733-2467
http://www.aimsedu.org
Earlier this year, I was able to review
Getting into Geometry
from the
AIMS Education Foundation
. Based on our previous positive experience, I gladly volunteered to serve on the review team for another one of their products. Considering that the fall brought us one of their math titles, it was fantastic to have the opportunity to review a science curriculum this spring.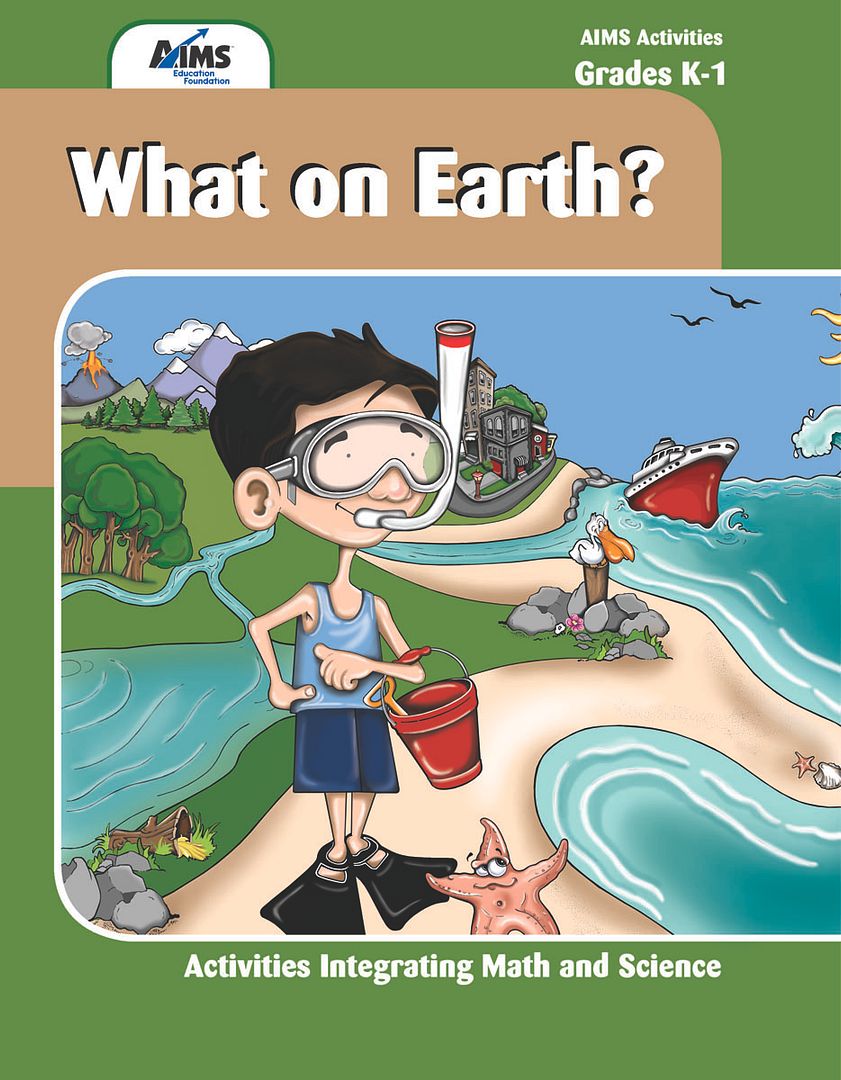 The kids and I were excited to open this book and begin to answer the question
What on Earth?
Designed specifically with K-1 students in mind, the activities and experiments were perfect for my three little ones. This material is divided into six sections: Resources, Rocks and Soil, Water, Changes, Day/Night, and Seasons. We spent our time working through the last two sections. When studying day and night, we were able to recognize a repeating pattern and make a lot of observations when viewing the sky. We learned specifically about the sun and experimented with melting several items. While learning about the phases of the moon, we made a craft to help us keep track and mark our current phase. In our study of seasons, we discussed typical weather patterns in each one. We also created a mobile depicting things we would see and do in winter, spring, summer, and fall.
As a teacher, I appreciated that each lesson included background information, step-by-step procedures, student, discussion questions, and extra resources. Being a music teacher by profession for many years, I was thrilled to see
AIMS
use of piggyback songs... new lyrics set to a familiar melody. This is an incredibly effective tool in teaching little ones new information. I also love that children's literature in included. The picture books are an excellent way to present information on new topics in a non-threatening, unassuming way. Finally, the companion CD is fabulous. Rather than having to make copies, I'm able to insert the CD and print a PDF of whatever activity my kiddos are currently doing.
One thing to note, this product is obviously designed to be used in a classroom setting. One of the lessons has students examining the cafeteria lunch on their tray. Another has children observing the sun at recess. Even still, the
What on Earth?
lessons are easily adaptable to fit the homeschool setting. The large group activities will require a little more tweaking but are definitely doable.
Honestly, my recommendation would be to use
What on Earth?
in a co-op setting. With 30 lessons and permission to make up to 200 copies, this product would be ideal for homeschool co-op calendars. It could easily fill an entire year of once a week meetings. The K-1 teachers would be thrilled to have this teaching resource, and the students would be engaged in fun, active, science education.
Preview
the book in order to see the table of contents, lay-out of the lessons, and several sample lessons/activities. Available both as a PDF and a book/CD combo, either way, it retails for a very reasonable
$21.95
. Be sure and peruse the many other
math and science materials
available through AIMS for K-9 students.
Then, as always, don't simply take my word. Read what my fellow crewmates are saying about their experiences with various
AIMS
products. Visit the
TOS Homeschool Crew Blog
.

Disclaimer: I received a complimentary copy of What on Earth? in exchange for my honest review. All opinions are my own.