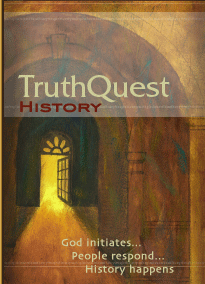 Going through school, I was never one to be fascinated by or enthralled with history. In fact, I found it to be one of my most boring classes. Studying old dead guys, rehashing wars and ancient politics, and memorizing dates and places seemed like such a colossal waste of time. Now looking back, I think part of my disconnect really came from the fact that history was presented in the absence of God. Mankind was the sole focus when it should have been God.
TruthQuest History
is definitely God-centered. It establishes "The Big 2 Beliefs" (Who is God, and who, then, is mankind?) as a frame of reference for students as they study historical figures, events, cultures, and entire civilizations. While commentaries open each section, it is the
ThinkWrite™
exercises that actually allow the student to process, respond to, and through the written word express the historical lessons learned.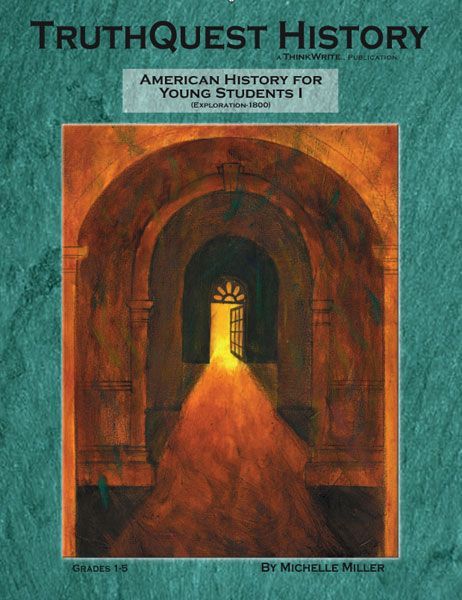 While
TruthQuest History
has eight chronological guides for World History (Creation through 2000) that are best suited for middle and high school studies, three chronological American History guides are also available for students in 1st-5th grades. As a member of the TOS Homeschool Crew with early elementary children, I had the opportunity to review American History for Younger Students I: Exploration - 1800. (Take a peek at the
Table of Contents
and a
Sample Section
.) My kiddos and I worked through sections 1-7 of this curriculum learning about explorers, Christopher Columbus, Pilgrims, the Mayflower, Pocahontas, the first settlements, etc. In our approach, I paraphrased the commentary sections, and we completed the
ThinkWrite™
exercises through discussion.
Some of our library finds for this study.
After spending time with
TruthQuest History,
I can identify numerous positives...
an unwavering Biblical perspective
a comprehensive historical outline
an extensive reading list
exposure to "living books"
notes & commentary regarding resources listed (including honesty when the author hadn't personally read an item, and the caution given to some selections based on the worldview they presented)
resources age appropriately marked
videos/activity books included
the lack of rigid schedules & timelines to abide to in studying the material
the freedom to both skip entire sections or delve deeper into ones that peak your interest
However, for a number of reasons, this particular history program would not work well for us as a stand-alone curriculum.
I prefer to use and base our study around one "spine" or history core so that there is a cohesive presentation of the content.
I appreciate a more scheduled approach. Yes, I often tweak such things to meet our needs and to allow extra time for subjects that truly captivate us. Still, a framework of "x" amount of time for this and "x" amount for that assists me. I love the flexibility of TruthQuest but know that I desire a little more guidance that it gives.
Some of the recommended reading is very dated and difficult to find.
A lot of searching and planning ahead is required in order to locate and have available the needed resources (time allotment for a lot of Internet searching, library trips, reserving items through inter-library loan, locating online resources, etc.)
lacks hands-on learning activities
lends itself to auditory learners and/or strong readers - more difficult for kids who need to "see" and "touch"
While
TruthQuest
may not be the best history curriculum for my family, I absolutely identify it as a valuable resource that I can and will most definitely use. I know we will find some true gems to accompany our history studies. We've already enjoyed some wonderful biographies and historical fiction books that we may have otherwise missed. In my opinion,
TruthQuest History
guides are phenomenal supplements. The TOS Crew Members are sharing their experiences with TruthQuest History on the
TOS Crew Blog
. Be sure and read what others have to say as opinions always vary.
TruthQuest Guides are available for
purchase
in either print or pdf format. Prices range from $24.95 to $34.95 (for print) and $19.95 to $29.95 (for pdf.) On the
website
, you can also purchase lapbooks another company has created specifically for many of the TruthQuest guides.
Disclaimer: I was provided a complimentary TruthQuest History PDF in exchange for my review and honest opinion.