PeopleKeys
is a worldwide leader in behavioral analysis. The company offers a variety of tools that assist in answering the question, "Who are you?" As a homeschooling parent, you are also most likely interested in having that question answered for each of your children. You desire to understand their unique personalities, their motivators, and their struggles. With such information in hand, you can better tailor your teaching to fit their individual needs.
While several crew members reviewed items directly related to their children, I used a product that was outside the age range of the kiddos in my home. So... it was Momma's turn to try something out! Designed for students ages 13-Adult, I used the
StudentKeys Online Personality Style Report
(retails for $12).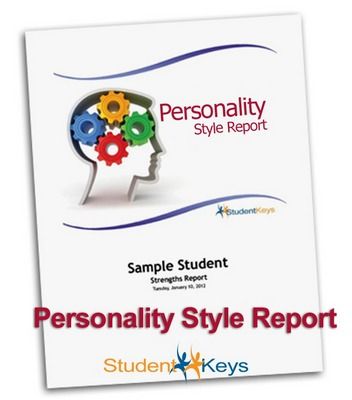 Who are you?

Discover who you are, what motivates you, how you communicate and what your strengths and limitations are.
The online assessment only entailed 15 questions. For each question, four answers were provided. I then had to order the responses from most likely to least likely. At the conclusion of the assessment, a report was generated for my immediate perusal and study. In addition, the report was also sent to my personal email address.
Because the product is online, there is no wait for product shipping or turn-around time for report generation. Therefore, strategies and a plan can be put in place almost instantaneously. In a fast-paced, need-to-know world, this is a huge draw for many people! Unfortunately, based on the report, I received, I have to say the quick response time paled into comparison with the disappointment in the quality of the results.
On the cover page of the report is my name and my personality style listed as REFORMER. That's great! I expected to scroll to the next page and immediately learn what a "reformer" is. WRONG! Actually, I didn't find that word mentioned again in the report.
Pages 1-3 answered what are personality styles and why understanding them is important. On page 4, under the title Your Personality Style, I read:
Angela's style is identified by the name "Communicator".
The remainder of this page proved to be the most helpful of the whole report. It included paragraphs describing the personality of a communicator. It touched on emotions, value to a team, and greatest fears. It also identified things such as: motivating goals, areas of influence, and areas for improvement.
Pages 5-15 of the report are generic pages explaining the DISC Personality System. Aside from a small sentence in the sidebar which said,
"You are a primary "I" personality style."
there was no other personalized information in the report. While it did give a good overview of the DISC system, it was expected that the individual would decipher which information was pertinent to his/her own personality style.
In good conscience, I can't recommend this product. Possibly, if you were utilizing the entire system offered, the results would be different because the DISC solution carries throughout. However, as an individual piece, I did not find the personality styles aspect to be a strong product compared with the other tools available on the market. In the past, I've taken much more detailed and thorough personality style assessments and have walked away with a better understanding of how I operate day to day and under stress as well as know my strengths and weaknesses. The small time investment and quick return of the
StudentKeys Online Personality Style Report
are appealing, but the quality of the report is greatly lacking.
Of course, experiences differ, so I encourage you to click below and read what other Schoolhouse Review Crew members are saying. You will also be able to read reviews of the other products PeopleKeys has to offer.