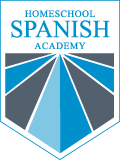 Homeschool Spanish Academy
is a one-on-one program. With siblings around, even in homeschool, this type of instruction is a luxury. You definitely can't beat that student/teacher ratio!!!
With the aide of a high speed internet connection, web cam, and Skype, the student and native-Spanish speaking teacher are able to connect. During the review period, Caleb participated in the
Early Language Program
designed for students as young as 5 through 12 years of age. The recommended starting age just happens to be 7, so Caleb fit the bill perfectly for this review.

I was a bit nervous about this review product, because we have never utilized such a program in our homeschool. Prior to Caleb's first class session, a technician called to ensure that our operating system, Internet speed, and technology were all set up properly. I appreciated this service because once completed I had no fear that Caleb's sessions would run smoothly on the techie side of things. Other services that impressed me were the reminders sent 24 hours prior to the scheduled lessons, and the ease in scheduling classes.
Classes can be scheduled to be taken either once or twice a week. Based on our busy summer schedule, we opted to have classes once a week. It was easy for me to schedule Caleb's classes online. On one occasion, I ended up needing to cancel a scheduled class. Again, the process was very simple.
The Middle School, High School and Adult class sessions last 50 minutes. On the contrary the Early Language Program classes are only 25 minutes in duration. In my opinion, the shorter class period is wise. It is definitely more age and developmentally appropriate. If the class was any longer, Caleb would lose focus. He also couldn't input and retain any more information than the 25 minutes allows. The shorter class period is definitely optimal for the younger age group. It makes language learning meaningful and manageable.
To begin each lesson, Caleb's instructor would message via Skype to see if we were ready to begin. When I would reply and give her the go ahead, she would video call. Caleb worked primarily with Luisa who was actually located in Antigua, Guatemala. (Seriously - how cool is that!) Caleb was pretty impressed that he was speaking with someone in Guatemala because Papaw and Daddy have both been there on mission trips. He made sure to wear his latest souvenir Guatemala t-shirt during one of his class sessions.
Not only is Luisa a native Spanish speaker, but she is an experienced teacher. From the very first class, she always spent the first few minutes chatting with him to make him feel comfortable. She asked questions about his favorite things, what he had been doing, etc. She would ask him questions from prior weeks and review. When presenting new material, she would actually turn her video feed off and she would use illustrated visuals on the screen. This is a great combination that works well for audio and visual learners.
The Homeschool Spanish Academy teachers move at the pace of the individual learner. For example, Caleb seemed to move quickly through the first couple lessons learning the Spanish vowels and alphabet. Spelling his name and the names of others was something he grasped quickly. A little funny... Luisa asked him to spell his Mom's name in Spanish... he rattled off the Spanish letters for M-O-M. Possibly confused, she asked him to spell it in English. Again, M-O-M. Ha! It took some explanation on her part and awhile for him to grasp that she wanted him to spell my first name. It was cute! I'm glad I'll always be M-O-M to my little guy.
Caleb struggled some and needed more time when he began working on formal greetings and conversation. The good morning, good afternoon, and good evening phrases really seemed to throw him for some reason. To reinforce the Spanish learned during his classes, review homework was emailed to be studied between class sessions. This sheet made it much easier for me to assist Caleb and practice with him - especially the trickier phrases that caused him the most trouble.
My only complaint regarding the Homeschool Spanish Academy class sessions was the sound. Because the teachers are operating out of a call center, there was a lot of background noise at times. Other teachers (probably sitting in the neighboring cubicle) could be heard conducting classes. Most of the time, the conversations were faint, but other times they were rather loud and distracting. For an easily distracted 7 year old boy, this did prove to be a challenge on occasion. I sat in the floor beside Caleb, so often, I'd be repeating the teacher in a whisper to help him out.
With the onset of the new school year, scheduling Caleb's remaining classes became difficult. It seems that Homeschool Spanish Academy is booming! When questioned about the scheduling issues, HSA responded with two encouraging tidbits. 1) More teachers are being hired. Yay! 2) Trying other instructors is actual highly encouraged (up to 3 instructors).
I was very interested to learn that HSA recommends using various teachers because the students can benefit from experiencing varied teaching styles and different accents. This is all possible because of the very detailed notes that the teachers keep regarding each session. These notes are always reviewed prior to the student's next class whether it is by the regular teacher or another. If for some reason there are questions regarding the notes or the student, the instructors operate from the same call center and can quickly share information with one another.
Because Homeschool Spanish Academy offers programs for early learners, middle and high school students and adults, the prices vary. For the Early Learner course that Caleb used, it costs $59.99 for half a semester (7 weeks/1 time a week). See other pricing options below.
If considering
Homeschool Spanish Academy
, I encourage you to consider a free trial session for your child. Also, be sure and read the reviews of other Schoolhouse Review Crew members by clicking the button below. You'll find information about all of the Spanish programs HSA offers.