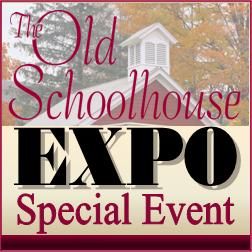 A week-long Schoolhouse Expo Event
August 19-23, 2013
1:00pm-8:00pm (Eastern) / 10:00am-5:00pm (Pacific)
WHERE'S THE VENUE???
YOUR HOME!!!!
Yes, this event is LIVE, but it is all online.
Times not good for you? Not a problem.
All sessions are recorded!
All registrants will receive a link to the recordings when the expo week is complete.
For Only $24 you can listen to the most sought after homeschool speakers again and again.
In your P.J.'s...
With your midnight snack...
Feeding the baby in the wee hours of the morning...
While on your treadmill...
Afternoon break...
The choice is yours!
While comfortable and relaxed in your own home, you can enjoy a wonderful homeschool event.
I'm excited to attend the expo without the distractions of crowds, vendors, blogger meet-ups, and curriculum to browse and buy. I can actually take time to really soak in and absorb the messages of the speakers. Not to mention I can hit rewind any time I want! No need to whisper to the momma beside me to ask, "What did he say?" WooHOO!!!