In September of 2011, while at an Ethiopian New Year celebration, we had the opportunity to hear the director of the
Kebron Carepoint
speak. Yewbi shared her heart, vision, and incredible ministry. Already a huge fan of the work of Tom Davis and
Children's Hope Chest
, it was a no brainer for my hubby and I to decide for our family to sponsor a child.
While I mingled among the guests and helped my team clean up after the event, Jon took the kiddos over to the table to choose a child from the display of pictures. They selected one of the sweet little ones that would be served at
Kebron
. Thus, Eliham became an extension of our family.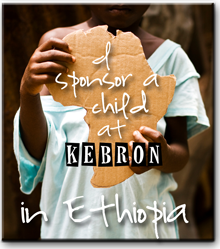 Yewbi shared with us that this precious girl was not one of the children that resided at the orphanage but instead was still with her family. She would visit the
Kebron Carepoint
daily to have her physical and spiritual needs met, but in her case, her family was still intact. Praise God! They are impoverished and also of the Muslim faith. Thankfully, by visiting Kebron each day Eliham would be able to thrive and grow, and most importantly she'd have the opportunity to learn of Jesus and God's saving grace.
Being that adoption is something we live day-in-and-day-out and is always a topic of conversation, the kids immediately asked if we were going to adopt Eliham. Jon and I were able to explain that Eliham would be an extension of our family, but because of our contributions she'd be able to remain with her family. We would send money to ensure that she had food to eat, clothes to wear, received medical care, got an education, and would be able to hear about Jesus. The kids were excited to be a part of the ministry to Eliham and her family.
Now it would have been extremely easy for our family to have gone home after the event, put our munchkins to bed, wake up the next morning, and them never think another thing about beautiful Eliham again. We could write a check or have $34 electronically drafted from our bank account each month and our children would never know the difference. Instead, we were determined to make this sponsorship a family committment. It was and continues to be our desire to teach our children that they can be God's hands and feet through sponsorship.
Ask me HOW?
1.) PRAY
When we got home, Eliham's precious face was clipped to the refrigerator. The idea was to combat the "out of sight - out of mind" theory. Because she was placed in a central location that we each come in contact with multiple times a day, we are constantly reminded to pray. Guess what? Yep, you got it! Eliham's picture still hangs on my fridge today! Actually, we just received an updated information card. I'm thrilled to say that Eliham's status was updated and changed from extremely vulnerable to vulnerable... our sponsorship is making a difference!
2.) COMMUNICATION
We receive updates from Eliham including pictures and correspondence from her translated in English. In response, my kiddos are able to color her pictures, write to her, and answer her questions. While some of this is done by snail mail,
Children's Hope Chest
makes this so easy to do as you can send your sponsor child
correspondence via email
at any time.
3.) CARE PACKAGES
Several times a year, we have the opportunity to extend our love to Eliham through gifts. Whenever an individual or team is traveling to Ethiopia and will be visiting Kebron, we can send a care package. It would be simple for me to hit the store and select items to fill a gallon zip lock bag all on my own. However, it is much more meaningful when my kids are the ones roaming the aisles to find trinkets and treasures to give Eliham. They also choose a new outfit or two they think she'd like. Then, once home, they help me carefully package everything. They so look forward to the updates and pictures of Eliham with her new things.
(Eliham wearing one new outfit and holding her care package. June 2013)
4.) GO
My friend,
Kristin Roach
, the Kebron Carepoint Coordinator, is able to take a yearly trip to visit the kids at Kebron and she often takes one of her teenagers along. While my kiddos are a bit small to serve on an international missions trip, they can be very much involved in my preparations to go. (3rd time is a charm right... I have high hopes to join Kristin this summer!) We are already brainstorming items we could collect to donate and fundraising efforts we can participate in to tackle one of the capital projects. Then, when they are older, they too can travel to Kebron.
Would your family consider being the Hands & Feet of Jesus through sponsorship? There are many organizations that offer sponsorship opportunities. I have the utmost respect for Children's Hope Chest. They operate with integrity and your money truly goes to create life change for the children sponsored. In the short time that Eliham has been an extended part of our family, we have absolutely seen her flourish. We love the reports of how she has come out of her shell and is engaging with others. She is healthy and learning about Jesus. Oh how we LOVE sponsorship!
Several of Eliham's friends are without sponsors.
Maybe you are who they are waiting for!!!
Visit the
Kebron Community Page
. Select one of the children marked unsponsored, and make them part of your family today!!!! SPONSOR!
I'm blogging 5 Days of Being His Hands & Feet as a part of the Schoolhouse Review Crew's 5 Days Blog Hop. There are some phenomenal bloggers and many fabulous topics. Homeschooling, everyday living, being frugal, faith... the topics vary so much. Click below. I'm sure you'll find many great reads of interest especially to you!