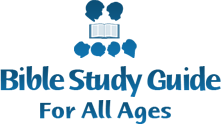 When deciding whether or not to reapply to be a Schoolhouse Review Crew member for 2013, there was the possibility of reviewing one product that swayed me more than any other...
Bible Study Guide for All Ages
. This is a curriculum that can be used in homeschools, Christian schools, Christian education programs, churches, family Bible studies, etc. All ages (3 through adult) can use the curriculum to simultaneously study through the Bible. The same Biblical accounts and passages of Scripture are taught to all through lessons tailored specifically to the needs of each individual age group.
My parents' church uses
Bible Study Guide for All Ages
in their Sunday School program, and my kids have always loved it when visiting with them. I was thrilled that our family was chosen to review the
Primary Level Student Pages and Teacher's Guide
,
Children's Songs CD Set
and
Bible Book Summary Cards
. The primary level is targeted for 1st-2nd graders. This is perfect since Rachel is a 1st grader now, and even though my boys are 3rd graders, I had them work at the same level mainly for management ease on my part. All three of my kids worked well in this program and enjoyed the studies thoroughly. In fact, we have all been so pleased, that it is my intent to continue using this curriculum throughout our school year. Time to order the next unit!!!
Bible Study Guide for All Ages is comprised of 416 lessons, but they are purchased in 26 lesson units. At a suggested pace of 2 lessons per week, the curriculum will take 4 years to complete. Since we averaged 20 minutes for each lesson, we are actually planning to incorporate the Bible studies into each homeschool day.
The
Primary Teacher's Guide
($9.95)
leads the teacher through the 6 parts of the lesson. The parts are labeled using A-F on the student pages.
A: Review - pretty self-explanatory. In this section, the children have activities that allow them to draw on prior knowledge and review people, places, etc. they have already learned.
B: Memory Work - Naturally, we assume this would be Scripture verses, but it includes more. Students memorize facts about people in the Bible, focus on the happenings in individual books of the Bible, etc.
C: Things to Know/Get Active - Object lesson time! In this section, kids learn new terminology, cultural aspects, and historical background.
D: Today's Bible Text - This section introduces the Bible account for the day. The story is told through comic like pictures on the student pages. The comic boxes are numbered to correspond with the Teacher instructions. As the story is read, the teacher will guide the students to circle, trace, color items in the boxes. All of these tasks help the students to remain engaged and connected to the story.
E: Timeline/Map Work - The student pages contain both timelines and maps for the kids to color and label. This allows the students to get a grasp of the chronology of the Bible and the area in which events took place in relationship to where we live.
F: Apply It! - How does the Bible lesson relate to everyday life? The lesson concludes with an example that kids can relate to.
Primary Student Pages
are consumable, so you will need to order for each student. These are very affordable at only $5.95 for each 26 lesson unit. In my opinion, a great value!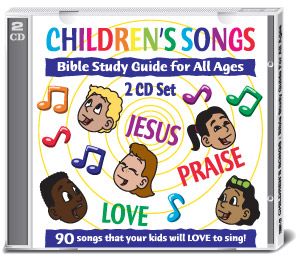 While it is possible to use only the teacher's guide and student pages, the experience will be much richer if you add the optional
Children's Songs CD Set
($19.95) and the
Bible Book Summary Cards
($24.95). Both of these items are often used in the Memory Work session of the lesson plan. We found the songs enjoyable and easy to remember. Still, the summary cards were my favorite because I see how they can be used again and again and in such a wide variety of settings. They are a tremendous tool for learning and review.
Reasons I LOVE
Bible Study Guide for All Ages
:
So often children's Biblical curriculum is taught as isolated stories, and kids lack the BIG PICTURE of the Bible. Not so with this choice! Students of all ages learn the links between the Old and New Testaments and come away understanding God's story of redemption and great love for His children.
In every unit, there are lessons taken from both the Old and New Testaments. Students are introduced to Jesus early on.
The lessons use the NIV translation which is what my children are most familiar with.
It is affordable! When talking about consumables for 3 children, costs often add up quickly. At only $5.95 per child/per 26 lesson unit, ordering for all 3 won't break the bank. For that I am very thankful since we plan to continue using this curriculum.
The lessons offer a variety of activities. Therefore, the kids are never bored. God's Word is not stale or mundane but ALIVE and WELL!
You can obviously tell I'm a big fan, but I encourage you to read the review of others. See how other families used the Primary level in their homes. In addition, some crew members used the Beginner, Intermediate, and Advanced levels of the curriculum. Check them all out by clicking below.