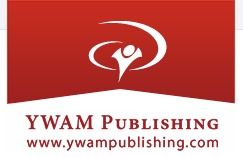 Earlier this spring, while attending the Teach Them Diligently conference, I was introduced to
YWAM Publishing
. I was aware of YWAM's involvement in missions worldwide, but unfamiliar with the publishing arm of this organization. It exists to provide evangelistic, educational and discipleship materials.
Needless to say, I was WOW-ed and spent a lot of time perusing the resources in their booth. In fact, I left with a 10 book set from the Christian Heroes Then & Now series. Our family has enjoyed reading missionary stories together before bed ever since.
When I learned that I had the opportunity to review a YWAM title as a member of the Schoolhouse Review Crew, I was quick to volunteer. Having already read the title offered from the Christian Heroes Then & Now series, the only choice was Heroes of History
George Washington: True Patriot
. Additionally, I was able to review the corresponding
George Washington Unit Study Curriculum Guide.
As expected, the title from the
Heroes of History series
did not disappoint.
As expected, we found it to be engaging, interesting, and even humorous in spots. The living book format always appeals to us. Even more so, I'm a fan whenever character and faith are highlighted as they were in the story of George Washington's life.
In 224 pages, 19 chapters, authors Janet & Geoff Benge, recount the life of George Washington beginning to end. The reader is first introduced to Washington as a young boy with his brothers during his formative years Virginia. The kids learned he was a surveyor and all that the job entailed. His military involvement in the French, Indian, and Revolutionary Wars was chronicled. Then, the reader follows his marriage and children, his political career, his presidency, and his life after leading our country. The final chapter shares Washington's last days and death. No doubt, the book was comprehensive.
Both physical and digital copies of the book are available for
$6.99
.
The Unit Study guide makes the book more accessible for all ages because it offers activities for children PreK through high school. The activities are cross-curricular and appeal to the varied multiple intelligences and learning styles. They include: key quotes, chapter questions, essay questions, writing prompts, vocabulary, mapping exercises, crafts, hands-on projects, audio/visual projects, timelines, geography skills, field trip ideas, and even a culminating event.
You definitely have the freedom to pick and choose the components that are most beneficial for your family and circumstances. Due to the fact that we were in the process of an out of state move during the review period, time constraints and the fact that materials were packed in boxes prevented us from doing some of the field trip and hands-on, craft suggestions. However, I did select a couple quotes for the kids to memorize, and we did use the discussion questions at the end of each chapter. This helped me as a parent to gage the children's understanding and allowed them to ask clarifying questions all the while generating additional conversation and new questions to be answered. Some Google searches followed many of these discussions to provide even more answers.
One thing to make note of regarding the Q&A - answers are included in the appendix. Since we completed the book as a read aloud, they weren't necessary for us. However, if you were considering this book as an independent study for an older child. You could definitely utilize the provided answers in order to check for comprehension.
Another feature I appreciated... the EXTENSIVE suggested resource list. Pages of great selections I may otherwise never have known about. We had a few books on our shelves that I was able to set aside. Then, I grabbed a great Amazon deal on a video suggestion. It's nice to have these lists handy when surfing the web!



I recommend you become familiar with YWAM Publishing and all they have to offer. We've been nothing but impressed by their products. Don't just take my word for it. Be sure to click below to read the review of other homeschooling families.