From the Circle C Beginnings and Circle C Adventures book series, I've been familiar with author,
Susan Marlow
for some time. Both of these series are wonderful for elementary aged and tween girls. While my boys may not publicly admit it, they've enjoyed listening to a story or two about Andi and her horse. However, what they'd be happy to talk your ear off about would be
Susan Marlow and Kregel Publications
newest series,
Goldtown Adventures
.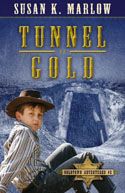 Our family had the opportunity to review
Tunnel of Gold
, which is actually the second book in the series. At first, I had concerns and wondered if we would be at a disadvantage having not read the first book. Would we lack prior knowledge? Would we understand the
characters
and be able to follow along with the plot? I can assure you that even though part of a series, the book can serve as a stand alone title as well.
The Goldtown Adventures take place in an 1864 in Goldtown, California where Jem, his sister Ellie, their cousin, and friends have many adventures around Cripple Creek. In
Tunnel of Gold
, Jem is caught in the middle of a miner's riot, and the Midas mine has run out of gold. While evidence of some promise lies deep underground, it put's Jem's father, the sheriff, in a precarious position. He is told to force the Chinese to leave their lawful claim or lose his job. Jem has to think fast! The mine owner's son devises a plan. Does Jem go along? And what disaster may it bring? I hate a spoiler, so you'll have to read to find out! However, as the kids and I can attest to, there is plenty of action!
My Jeremiah loved that the main character, nicknamed Jem, was also a Jeremiah. Daddy sometimes call him "Jeromius" as a nickname, and he thought he may like "Jem" better. As expected, it just didn't stick! It was funny though in his attempt :-)
Now what I loved about the book: well developed plot and characters opposed to cheesy kids fluff, wholesome language, life lessons, morals, and values, and Scripture quotations. Also, being a transracial family, we know that we often stick out or veer from the norm. We don't look the way some people believe families should look. Brown kids and peach kids in the same family? So, I was especially, thrilled to see the intentional friendship between Chinese, Wu Shen and Jem. Even better, when others teased and bullied Wu Shen, Jem showed strength of character, integrity, and exhibited true friendship. These are important lessons for my family!
The recommended age range for the book is 8-12 years. When using it as a read-aloud, as we did, younger children can also enjoy the story. Read a
sample chapter
. The book retails for $7.99 + $2.50 shipping and handling, or books 1 & 2 may be purchased in a set for $13.95 + $3.00 shipping and handling.
As a homeschool mom, I love the fact that this book can become a more in depth unit study with the aide of the
Free Enrichment Study Guide
. The 25 page guide includes maps, recipes, games, comprehension questions, vocabulary activities, further historical information and readings, etc. It is a detailed resource.