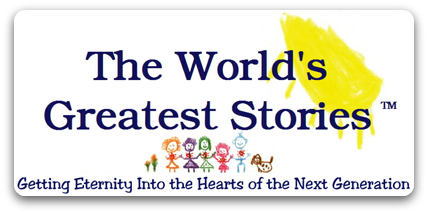 Listening to stories on CD has only been a recent addition to our days. This summer my three little ones gave up naps. Very excitedly on their part, but not so much on mine. Granted, they are 5 and 6 now, so I suppose it is time. However, there have been days where they have become crabby mid-day or it is quite obvious that their little brains and bodies have done all they can do. I can't exactly announce nap time or there will surely be mutiny, so I've introduced "quiet time." It's not an everyday activity, but it is great at putting the kabosh on silly sibling squabbles or rejuvenating the weary. (This Momma appreciates the bonus down time as well!) Our protocol? The kids lay down on their beds, but no sleeping. There is no talking, no getting up, and no toys. I put a CD in and they usually listen 15-20 minutes... sometimes longer if it is a story they are really engaged in.
Upon learning that I was selected to review
The World's Greatest Stories
, I was very excited. While some of the CD's the kids have listened to were Christian stories, none had been specifically from the Bible. Not only was this a Bible CD, in fact, it was word for word Scripture text. I so long for my children to hide these words in their hearts and abide in them always, so I support products that aid in that endeavor.
George W. Sarris
is the man and voice behind
The World's Greatest Stories
. He truly brought to life the sacred words from the Bible's pages through the use of unique voicing, thoughtful inflection and intonation, a myriad of expressed emotions, appropriate sounds effects, and complimentary music. Mr. Sarris is an extraordinary storyteller. From an adult point of view, he's possibly over-the-top in some instances and I stifled some giggles and muttered a few "oh-my's", but my three little ones were absolutely enthralled and thoroughly entertained by his exuberance and enthusiasm. I believe, his recommendation for listeners ages 4-12 is on target.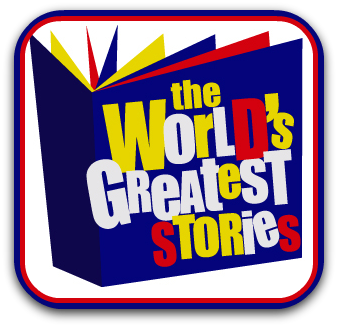 While there are 6 volumes available, we specifically reviewed and enjoyed Volume 1: The Prophets (NIV). Included were the Biblical accounts of:
The Blazing Furnace
The Handwriting on the Wall
Daniel in the Lion's Den
Elijah and the Prophets of Baal
The Prophecy of Jonah
(Yes, I've read all my
Ken Ham
, so I prefer the word ACCOUNTS over STORIES. We need to be mindful of how we present the Bible to our children. Historical/Factual vs. Fairytale/Fantasy... now stepping off my soapbox ;)
The remaining 5 volumes include:
The Life of Christ

Beginnings

Joshua and Esther

Joseph and His Brothers

Defeating Giants
Each of the 6 volumes retail for $7.95 and are available in your preference of either KJV or NIV. If you purchase 6 or more items, all shipping fees are waived. There is also one other product available: The Real Story of Easter. This dramatic reading of John 18:1 - 20:31 transports the listener to the crucifixion and resurrection for Christ. It is available only in the NIV translation and retails for $9.95.
On the
products page,
audio clips from each CD are available to sample. Give them a listen and also be sure to read what other TOS Crewmates are saying on the
crew blog
about
The World's Greatest Stories
.
Disclosure: In exchange for my unbiased opinion, I was provided a complimentary product to review.